Research Success Story
Another Look at the Gateway Drug Theory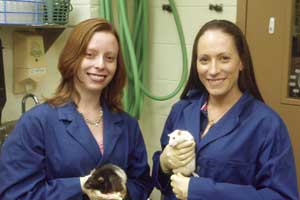 Most of us have heard of the "gateway drug" theory—the idea that use of one drug will lead to use of another in the future—but few of us are aware of how complicated it actually is. Psychology PhD students Mary Anne Hutchison and Jennifer Rinker are working to clarify this nuanced area of psychopharmacology.  
The pair's experiments focus on the aversive effects of nicotine, alcohol, and cocaine using a method called the conditioned taste aversion design. In this procedure, rats are given a novel, sweet (usually saccharin) flavored solution. After allowing the rat to consume the sweet solution, they inject a drug. The idea is that rats will come to associate the negative effects of the drug with the flavored water, and thus if the drug is perceived to be aversive, the rats will stop drinking the sweet solution.  
Hutchison and Rinker determined that early exposure to these drugs in rats creates a drug history that might diminish the aversive effects of drugs later in life. This finding suggests that early drug exposure in humans will similarly reduce the aversive effects of drugs over time.  
"There are many other factors besides age that can affect the aversive properties of these drugs, such as gender and drug combinations. We are just hoping that through our research we will be able to clarify how drug exposure at an early age may factor into drug taking later in life more specifically," says Rinker. "We are also both very interested in examining what neurological changes are happening as a consequence of early drug exposure that might be mediating the changes in the behavioral responses we see."  
The pair's work is garnering attention. Both Hutchison and Rinker received grants from the Andrew W. Mellon Foundation, and they presented their work at the College of Arts and Sciences' 2009 Robyn Rafferty Mathias Student Research Conference and the College on Problems of Drug Dependence's 2009 annual meeting in Reno, Nevada.  
Adapted from "Another Look at the Gateway Drug Theory," by Shelby Krick '12, Catalyst, Fall 2009.