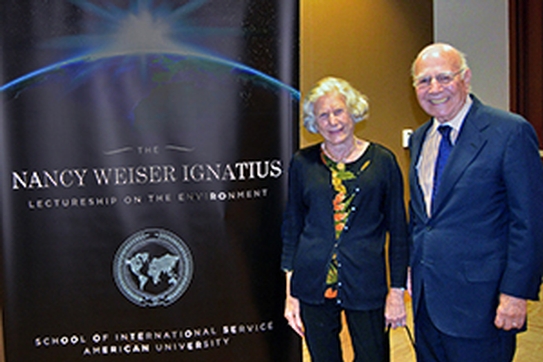 International
Growing environmental concern
Environmental activist Nancy Ignatius, SIS/MA '69, helped spread awareness about environmental concerns by harnessing the power of women and the pocketbook.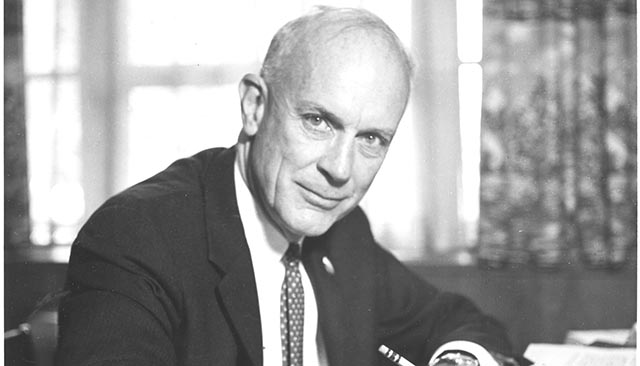 In 1957, Ernest S. Griffith was appointed the first dean of SIS. Prior to becoming dean, Griffith was a Rhodes Scholar and director of what is now the Congressional Research Service.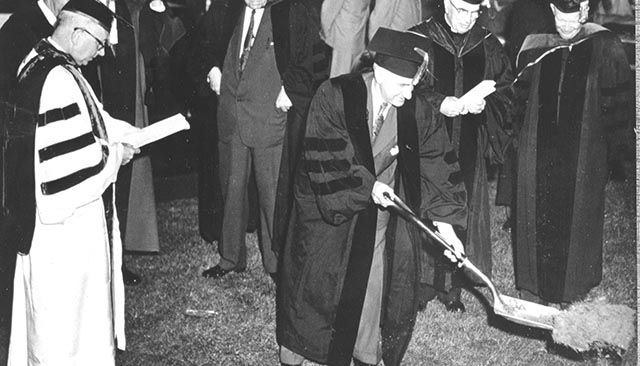 SIS broke ground on June 9, 1957, with the help of President Eisenhower, AU President Anderson, and SIS Dean Ernest Griffith. Curious about what was involved in that ceremony?
In 1959, the School of International Service enrolled its first full-time class, which consisted of 85 students representing 36 different countries.
Today the School of International Service enrolls roughly 3,000 students from more than 130 different countries.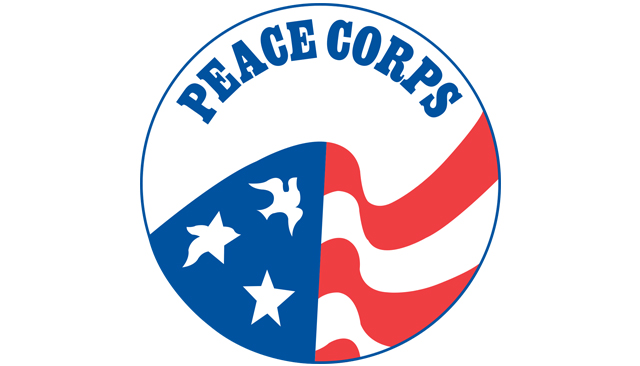 In 1961, the Peace Corps is established and SIS's long-standing relationship with the organization begins. Today, American University is a top college for Peace Corps volunteers.
International Communication program launches
In 1968, the International Communication (IC) master's program is founded in response to growing international engagement and tension. 50 years later, the program is the oldest of its kind in the US and continues to innovate in this dynamic and multidisciplinary field.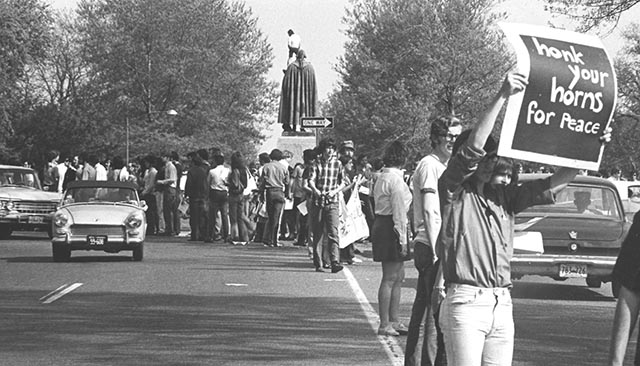 In 1970, classes are disrupted and campus unrest ensues as students protest the Vietnam War. "There was a great deal of anxiety, fear, and courage," recalls Professor Abdul Aziz Said.
SIS consolidates with public affairs
In 1973, SIS becomes part of the newly created College of Public Affairs, designed "to emphasize and coordinate the university's extensive undergraduate and graduate programs in public policy studies and public affairs."
SIS continues to grow and becomes a free-standing unit again in 1988, when the College of Public Affairs is disbanded.

International Development program launches
In 1974, the International Development (ID) program was established. For more than 40 years, students in the program have strived to improve opportunities for the world's poor and disenfranchised.
SIS responds to shift in Eastern Europe
Following the fall of the Berlin Wall, the collapse of the Soviet Union, and other developments in Eastern Europe, SIS modifies its curriculum and participates in an exchange program with Russia. Alumnus and former White House Correspondent David Gregory, SIS/BA '90, reported on the topic for The Eagle.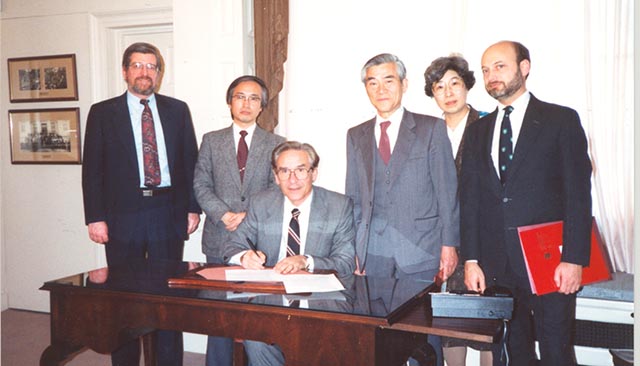 In 1992, SIS partners with Ritsumeikan University to offer the first-ever dual master's degree between the US and Japan. The partnership has grown and now offers a joint undergraduate degree.
International Peace & Conflict Resolution program launches
In 1995, the International Peace and Conflict Resolution (IPCR) program is established in response to growing international arms race, environmental degradation, and global inequalities. Today, the program prepares graduates to serve the world's most vulnerable.

SIS focuses on the environment
In 2000, SIS establishes the Global Environmental Politics program, which features a dual-degree partnership with the UN University for Peace in Costa Rica via the Natural Resources and Sustainable Development (NRSD) degree. Graduates pursue careers to protect the natural world.

"9/11 altered the direction of my research. I realized these wars take a terrible toll on soldiers, civilians, and locals, yet without enough social scientists on the ground to study the problem. I found myself in many conflict zones, studying multiple sociocultural drivers of human volatility to help advance stabilization and peace."
-Professor Shalini Venturelli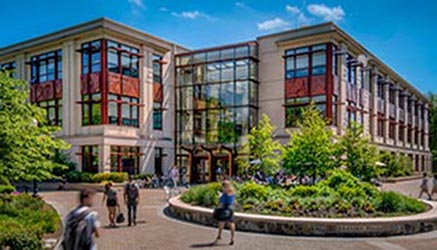 In 2010, SIS  opens the doors to its new home. Designed by green architect William McDonough, the new SIS building was the first on campus to earn LEED-Gold certification.