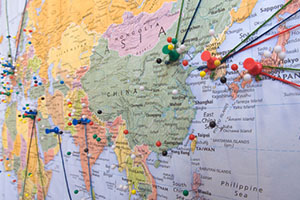 Objective
New Era International (NEI) assesses how scholars and policymakers in key strategic regions of the world view the political and economic choices that will drive global foreign policy over the next 5-10 years. NEI is motivated by the insight that on many contemporary foreign policy challenges, a "discourse of tradeoffs" is a more analytically useful and empirically relevant framework than the conventional "discourse of interests" employed in international relations.

In this light, a major weakness of contemporary American foreign policymaking has been the faulty assumption that other nations will or should view the trade-offs in the global environment as we do. On macro global issues—such as the challenge of alternative governance ideologies, the relationship between states and non-state actors, and the desirability of American leadership—influential players outside the United States have significantly different views about the tradeoffs and consequences of action or inaction in the international system. NEI aims to identify and explore the most important tensions and complementarities in the perspectives of these global actors. Through this process, we aim to develop concrete insights as well as a research agenda that will contribute to both scholarly and policy-centered understandings of the challenges facing global decision makers.
Overview
New Era International comprises a series of workshops designed to uncover regional perspectives on global problems. We will partner with host institutions to invite leading thinkers from academia, business, and government for several days of structured discussion focused at each site on a single area of uncertainty in the evolving international environment.
NEI Singapore
The first New Era International workshop was held in Fall 2013 in Singapore, in partnership with the School of Social Sciences at Singapore Management University. This workshop focused on regional views on the definition and provision of regional public goods in the East Asia Pacific region. The NEI workshop employed scenarios and other methods that work to help participants move beyond their particular national, disciplinary, and occupational perspectives, with a goal of drawing on each individual's distinctive expertise while diminishing the influence of his or her functional biases.
Be sure to return to the BTG webpage for information on upcoming conferences.