International Success Story
Larissa Kougblenou-Siebens, SIS/MIS '15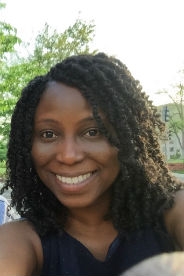 Why I chose MIS: 
I completed my undergraduate studies in Management Information Systems and International Business, but I have always had a calling for being of service to disenfranchised and marginalized people. The MIS program provided me the flexibility to further my knowledge in International Relations, especially International Development and Peacebuilding. My ultimate goal is to leverage my knowledge and expertise in International Business, Information Technology (IT), organizational development and enterprise architecture to impact the lives of marginalized populations at a policy level.
How I make a difference in the world: 
Well… I am still working on that. In 2011, co-founded an informal nonprofit organization called "THINK International and Human Security," to analyze global issues in international politics, development, security and human rights.
Furthermore, I have been working for the World Bank Group for about 3 years now, and through this work, I was fortunate to win the Youth Innovation Fund Competition with some good friends/ colleagues. The YIF is an initiative which aims to facilitate cooperation within the World Bank Group, while simultaneously investing in young staff to acquire operations experience, increasing their capacity and potential. It offers young staff the opportunity to design and implement innovative small scale projects in client countries, with the possibility to be scaled up into formalized projects.
Our team won funding to implement the Benin e-Learning Project (or Bridging the Youth Opportunity Gap in Benin through e-Learning) aims to create a sustainable knowledge-sharing platform between instructors and students by increasing the awareness and use of e-learning, and Massively Open Online Courses (MOOCs) in Benin.
I consider these two efforts very small steps towards a future through which I can help improve Human security (freedom from fear, wand and indignity) not only in my country, but also in other areas of the world.

How MIS has made a difference in my world: 
MIS has given me the flexibility that I needed to customize a concentration that allowed me to hone my theoretical and technical knowledge in development, Mediation, policy and governance, by allowing me to benefit from the renowned curriculum of the International Development and International Peace and Conflict Resolution Masters Programs at SIS. Furthermore, throughout my experience as a MIS student, I have appreciated that each course offered allowed for independent research. I have expanded my social network with mentors, professors and intelligent friends from diverse origins who have inspired me to strive for better, and broadened my understanding of different cultures.
Field of study: 
International Development and Peacebuilding

SIS activities: 
I participated in an Intergroup Dialog on Race and Ethnicity.

Languages: 
French (Native), English (Advanced), German (Intermediate)

World issues of interest: 
Human Security, Education, Poverty, Immigration, Terrorism

Professional role model: 
Dag Hammarskjöld, Second Secretary-General of the United Nations

Favorite book: 
Pathologies of Power: Health, Human Rights, and the New War on the Poor by Paul Farmer
Favorite movie:  
En Route to Baghdad.  It is a movie about Sergio Vieira de Mello, the United Nations high commissioner for human rights and Kofi Annan's special envoy to Iraq. http://www.pbs.org/independentlens/enroutetobaghdad/film.html

Current residence: 
I currently live in Chevy Chase, Maryland.