International Success Story
Profile: Jesse Pruett, SIS/MIS '12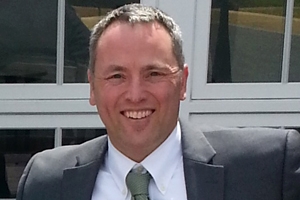 Why I chose MIS:
I chose MIS because it offered an internationally respected program with the flexibility to fit within a demanding and often unpredictable schedule.
How I make a difference in the world:
My father had a jar filled with coins he had collected from his world travels, which fueled an early fascination with all things "international". I have been extremely fortunate to have been involved, in very small ways, with many of the significant world events of my generation. At this point it is my hope that I contribute through mentorship and development of other "internationals" whose own experiences will influence the direction of our country and the world.
How MIS has made a difference in my world:
MIS provided a great window into the nexus of academic theory and the real-world experiences of a great cohort of student-colleagues representing a broad swath of perspectives. Sharing the academic adventure with them enriched not only my appreciation of studied histories and subsequent events but it also expanded my understanding of my own experiences.
Field of study:
My official area of focus was U.S Foreign Policy, with an unofficial emphasis on the interagency aspects of expeditionary efforts abroad.
Languages:
English, Spanish
World issue of interest:
I am interested in how military and civilian instruments of national power can coalesce in expeditionary circumstances, coordinate with international partners, and collaborate with local populations and leaders to deliver the most beneficial expression of American ideals into that environment.
Professional role model:
The American Generals of World War II provide a series of case studies in achievement in International Affairs. Eisenhower, MacArthur, Bradley, Patton, Marshall (and others) each offer lessons and insight into the traits required to commit to a cause, overcome doubt and hardship, balance strength and compassion and serve as leaders in incredibly intense environments. At the more personal level, my father is my truest role model, providing a foundation of character that I strive to build upon in both my professional and personal endeavors.