Dean's Welcome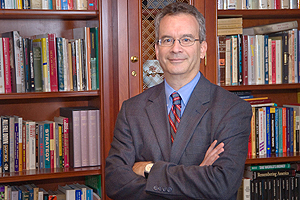 School of International Service Dean James Goldgeier (photo by Jeff Watts)
The School of International Service (SIS) is a diverse community of faculty, staff, students and alumni dedicated to understanding and meeting global challenges. SIS offers unique opportunities for learning about other peoples and cultures. Its major programs of study – Comparative and Regional Studies, Global Environmental Policy, International Communication, International Development, International Economic Relations, Global Governance, Politics, and Security, International Peace and Conflict Resolution, and United States Foreign Policy – offer a rigorous preparation for careers in international affairs. SIS seeks to train future global leaders who possess cross-cultural sensitivity, professional expertise in a specialized subject area, and strong analytical and personal skills.
We have an incredible faculty, whose research is at the forefront of their fields. Our staff works hard to ensure that students can take full advantage of all our school has to offer. Our students are a tremendous resource themselves, creating a vibrant community from across the country and around the world. And our location, a short metro or bus ride from the White House, nearby embassies and agencies, puts us in close proximity to national and international decision-makers.
I invite you to explore SIS – its study abroad opportunities, curriculum, faculty, and history – through our website, and to visit me and the rest of the staff, faculty, and students of the School on our beautiful campus in Northwest Washington, D.C. If you can, please time your visit to take advantage of one of the many exciting events we are planning for the coming academic year.
James Goldgeier, Dean
School of International Service