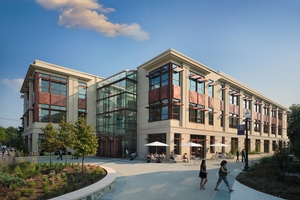 The SIS Building
The School of International Service (SIS) at American University is committed to a broad and interdisciplinary approach to the study of international relations that values public service, environmental stewardship, human rights, and social justice. SIS strives to maintain diversity of background, experience, and expertise among its faculty and students, while fostering excellence in all fields of study and programs. Our curriculum emphasizes the operative word in the school's name: Service. This overriding belief guides the school in its goal to educate graduates of a special type: individuals whose personal and societal principles offer the promise of success in the rigorous conditions of an increasingly interconnected and complex world. Our service mission is also reinforced through architecture, as SIS opened its new "green" LEED-gold certified building in summer 2010.
SIS is now home to over 100 full-time faculty members and more than 900 graduate and 1900 undergraduate students. SIS is a unique community of scholars and practitioners, composed of students and faculty from over 150 countries and across the United States. From workshops to professional seminars and skills modules, SIS students have the opportunity to build on and gain new theoretical and practical tools to use in their future career pathways. Our flexible curriculum also offers students the opportunity to individually tailor their program of study to meet their personal and professional goals. 
Because SIS is located in Washington, D.C., students can take advantage of the wealth of professional, intellectual, and cultural resources available in the nation's capital. Additionally, advisors from American University's Career Center work with SIS students to find internships to complement their coursework, assist with professional networking, and help with job placement. As scholar-practitioners, our SIS faculty members are dedicated to assisting students in their professional and academic pursuits. Additionally, our 15,000 worldwide alumni offer students an extensive network to draw upon in their internship and career explorations.