History of SIS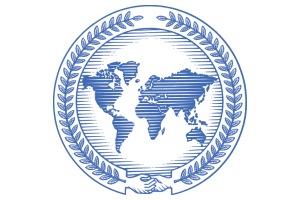 Even when the Cold War was most intense, U.S. President Dwight Eisenhower was keenly aware that the United States and the world needed to prepare for a time when the U.S.-Soviet rivalry no longer dominated foreign policy and the world could focus on enhancing human dignity. With this in mind, he called together thirteen university presidents, including American University's Hurst Anderson, to encourage them to incorporate human-focused international affairs into higher education. Anderson and the Methodist Bishop of Washington, G. Bromley Oxnam, shared a similar vision and proposed that President Eisenhower support their idea: a school predicated on service to the global community. President Eisenhower embraced the idea and eventually agreed to speak at the School's groundbreaking ceremony in 1957.
Capitalizing on the previous successes of the AU Department of International Relations, SIS opened its doors in 1958 to an inaugural class of 80 full-time students from 36 countries. It offered six innovative programs designed to combine a liberal arts foundation with a specialization in some aspect of the international community. By 1965, SIS took the lead in helping to formulate the University's response to the antiwar movement that swept through U.S. college campuses.
In 1967, the international communication program began and is now the oldest of its kind in the country. Shortly thereafter, the international development program was founded. In 1981, with the beginning of concerns that greater Muslim-Western understanding was needed, the Ibn Khaldun Chair of Islamic Studies was inaugurated, a post currently held by Professor Akbar Ahmed.
Recognizing the strategic importance of an education that embraces more than one culture, in the 1990s SIS established dual degree programs with Ritsumeikan University in Kyoto, Japan - now the longest-standing partnership of its kind - and with Korea University in Seoul, Korea. In 1995, an innovative master's program was created under Professor Abdul Aziz Said in international peace and conflict resolution, quickly followed by the establishment of the Mohammed Said Farsi Chair in Islamic Peace. In 2000, a joint degree program on Natural Resources and Sustainable Development was launched with the United Nations University for Peace in San Jose, Costa Rica, as well as a Master of Arts in Environmental Policy.
Today, SIS is the largest school of international affairs in the United States with almost 3,000 students from 150 countries. Its eight programs of study offer students a wide range of possibilities; its students draw upon resources in Washington, D.C. and beyond for over 500 internships a year.
While the school and its curriculum have grown and changed dramatically over the last 50 years, its core values remain true to the ideals as provided by Eisenhower, Anderson, and Oxnam. Louis W. Goodman, Dean Emeritus of SIS, notes that "our founders had a vision of peace that would educate citizens planning to be of service. That is the essence of what we do."