Alumni Success Story
An Adventure-Filled Career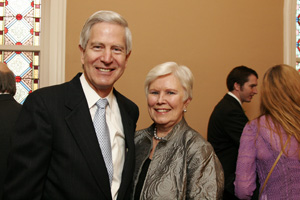 When Ambassador Clyde Taylor, SIS/MA '61, addresses students, he likes to play a version of an old TV game "What's My Line?" He challenges the audience to name a job that could include the following experiences: providing security for JFK, testifying before Congress on 'Queen Bee Gates,' being the target of an assassin, and finding refuge for Haitian dictator 'Baby Doc' Duvalier. The answer is a U.S. Foreign Service Officer, he says, adding that all the experiences he cites actually happened to him during his 34-year career in the diplomatic corps.
Taylor was born in Colombia, the son of American missionaries. He grew up in Washington, DC and says that deciding to go into the Foreign Service "was a natural." After receiving his BA in Political Science from Wheaton College, he enrolled at SIS for his masters. The MA program offered a mock Foreign Service exam which turned out to be more difficult than the real one. As a result, Taylor passed the real exam on his first attempt. After graduating from SIS in 1961, he began his career in Foreign Service, serving in several Central and South American counties before serving as the ambassador to Paraguay from 1985 to 1988. Recalling his first overseas posting to Panama, Taylorcredits SIS with providing him with a solid understanding of the region. "I wouldn't be here without SIS," he said.
Now retired, Ambassador Taylor remains active in his field. He serves as executive director of the Una Chapman Cox Foundation, which supports the Foreign Service Foundation, and he's an active participant in "The Embassy of the Future" project, sponsored by the Center for Strategic and International Studies. Ambassador Taylor also represents the State Department on the eight-person jury that will select the design for the new U.S. Embassy in London.