Alumni Success Story
To the Rescue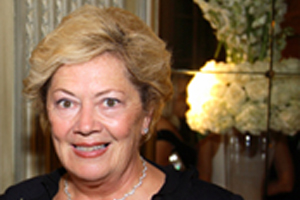 When big business stumbles, it calls on Fruzsina Harsanyi, SIS/BA/MA '64,'67, SPA/PhD '72. 
Since being named Vice President for Global Public Affairs at Tyco International Ltd. in September 2003, Harsanyi helped to restore the national and international image of Tyco after scandal threatened to destroy the company.
"People make the mistake of seeing 'service' only through the obvious definitions," Harsanyi explains. "These are not the only ways to promote the values of service" taught at the School of International Service. While leading the effort to save Tyco, she credits these values, along with "the grounding and international point of view learned at SIS" as major influences.
The thread connecting Harsanyi's many public policy accomplishments, is her belief in the critical relationship between business and government. "Special Interests can be for the good - that's how democracy works!" exclaims Harsanyi. Her career has been devoted to propelling this belief to the forefront of her professional efforts. Harsanyi began her life in public policy at the League of Women Voters. Other positions include working for HUD, and ABB (Asea Brown Boveri) Inc. With plans to retire at the end of 2008, Harsanyi looks forward to writing and lecturing after retirement. As an active member of the "SIS Dean's Advisory Council", she will remain involved in the life of SIS, recalling that her days as a student here were "pure magic."