Ann Mangold, SIS/MIS '12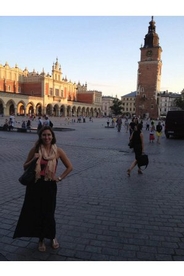 Ann Mangold, SIS/MIS '12
Why I chose SIS: 
I chose SIS because of its location in Washington, D.C. and the excellent reputation of its faculty. I think close proximity to the nexus of politics and decision-making creates unmatched opportunities for students who study in D.C.

How I make a difference in the world:
I'm currently working for Lapis Strategic Communications, a division of Moby Media Group, in Kabul, Afghanistan. We work with clients such as the U.S. Embassy and UNDP to raise awareness and educate people on civil society issues. I like being part of an organization that is contributing to the local economy in a sustainable manner.

How SIS has made a difference in my world:
Through SIS, I formed a solid network of mentors, professors and friends who have offered invaluable advice and support in my professional pursuits. I feel lucky to have met such an intelligent and inspiring group of people.

Field of study:
U.S. foreign policy, international security issues and Middle East studies.

SIS activities:

Outside of class, I completed internships with the Women's Foreign Policy Group, The Moshe Dayan Center at Tel Aviv University and The New Yorker. I found these experiences to be extremely valuable because they provided practical insight into the issues I studied and helped me to explore possible post-graduation career options, as well as meet some very interesting people in the international relations field. Additionally, I spent time getting to know my classmates and professors. Not only have many of my classmates become close friends, but they also have served as an automatic professional network. I actually found my current job through a friend who I met at SIS. 

Languages:
Working knowledge of Spanish and Arabic. I'm also starting Dari lessons to make my daily life in Afghanistan a bit easier.

World issue of interest:
I don't have a particular issue that I'm focused on, but I would say that anything related to education/literacy for women and children (particularly girls) is of interest. I am also interested in increasing understanding of the Muslim world amongst Westerners, particularly Americans. I think there is a huge gap to bridge where that is concerned.

Professional role model:
My mom. She set a great example for my sister and me of how to balance a career with having a family/personal life. It must have been extremely difficult, but she never complained. I find this especially amazing since she taught first grade for 36 years – it can't have been easy to manage a classroom of six-year-olds all day and then come home to run a household.

Favorite book:

That's a tough choice. The first book that comes to mind is Skeletons on the Zahara by Dean King. It's a true story that recounts the experiences of American sailors who were shipwrecked off the coast of Africa in 1815, captured by desert nomads, sold into slavery, and subjected to a hellish two-month journey through the Sahara. It's a fascinating portrayal of human courage and resilience.

Favorite movie:

"The Lives of Others." Set in the early 1980s, it follows the monitoring of East Berlin residents by the Stasi. I like films that are grounded in real-life events.

Current residence:
Kabul, Afghanistan.