David Tannenbaum, SIS/BA '09, SIS/MA/KSB/MBA '12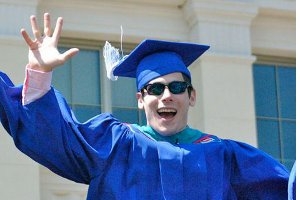 David Tannenbaum, SIS/BA '09, SIS/MA/KSB/MBA '12
Why I chose SIS
:
I chose SIS the first time for its location in D.C. and AU's overall appeal to me over Georgetown and George Washington. The general attitude of the students was much better, as was the campus feel. After graduation, I chose it again for several reasons. First, SIS had a brand new facility which was exciting, and I wanted to expand on what I learned as an undergrad. I felt that during my bachelor's work, the faculty had given me a core understanding of international affairs and the U.S. Foreign Policy faculty at the master's level brought a multi-faceted "whole of government" approach to problem solving that allowed me to hone my skills in policymaking, critical thinking and analysis.
How I make a difference in the world:
I'll be the first to admit that my journey to where I am today was entirely unexpected! I've gone from being an ROTC cadet and working with the Department of Defense all the way over to the financial side, having worked with the Commerce Department to stop dual-use goods from being smuggled and with the Office of Foreign Assets Control (OFAC) where I helped enforce sanctions against a range of targets including against Iran, Syria, narcotics organizations and terrorist organizations.

The one thing that has held all that together is serving my country. I've gotten to work some very cool jobs for the government, but while at OFAC I learned that the best way to enhance the effectiveness of sanctions is to work with the banks and companies that are subject to them. That's why I formed my own company, Blackstone Compliance Services, to help the financial industry better comply with sanctions regulations, stop money from going to the wrong people and make their organization, our financial system and our country more secure.
How SIS has made a difference in my world:

An important aspect is the alumni network. At SIS I forged good friendships and when I started my company and began recruiting, the first stop was that network at SIS to find the perfect fit. It certainly wasn't the first time I went to them for help, and it most likely won't be the last time. I encourage other alumni and current students to use this network as we have people in government, private industry and nonprofits all around the world. Helping other alumni can only enhance the school's value!
Academically, SIS taught me to explore a multi-faceted approach to solving a problem. With the help of excellent teachers like Gordon Adams and Philip Brenner, I learned to think critically about a problem and apply all the instruments into solving it. A great example would be Professor Adams' simulation which allowed us to tackle a problem from multiple viewpoints. It worked out well because on our team were students that actually worked for the Treasury (myself) and the State Department (who I oddly wound up working with briefly in the real world!).
Field of Study: 
U.S. Foreign Policy and an MBA from Kogod.
SIS activities: 
I worked my entire time at SIS and never took a leadership role in any of the organizations, but it was always important to make an effort to go to the activities, have fun and socialize. Apparently my idea for a USFP vs. IPCR paintball tournament never caught on…something about them wanting peace, not conflict…
Languages:
American English, southern dialect
World issues of interest: 
Combating illicit financing for terrorism and narcotics, using economic sanctions to prevent nuclear proliferation, human rights abuses and terrorism and battling corruption and organized crime.
Professional role model: 
My role models are my peers. Every day I went to work I was constantly amazed by the caliber of people that I worked with. From their intelligent insight into a problem that I'm trying to solve all the way to their willingness to calm me down on a cranky day, they were the driving force that made long days feel much shorter and made me work that much harder.
Favorite book:

Starship Troopers. And please, don't think about the movie. The book is a good discourse about a government's responsibility to the people as well as the people's responsibility to their country. Its underlying message resonates well with SIS' own values of giving service back to your community, country or the world.

Favorite movie: 
I'm kind of a movie buff, which is a problem because I have a hard time even narrowing down a top ten. Preferably some combination of explosions held loosely together by a weak plot line.