Profile: Shanti Shoji, SIS/MA '09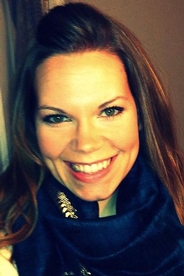 There's hardly been a time when Japan or its culture hasn't been part of Shanti Shoji's life.
Her family often hosted Japanese students in the summer when she was in elementary school. At 13, she made her first exchange trip to the country, stayed with a family and accompanied her host sister to school for a week.
"It just snowballed from there," Shanti, SIS/MA '09, says.
That snowball has included a second trip to Japan at age 15 through the 4-H Youth Development Organization, both high school and college study in the Japanese language, and taking off her junior year at the University of Oregon to intern at the Labo International Exchange Foundation in Tokyo.
It seemed fitting that after college, Shanti moved back to Japan to participate for two years in the Japan Exchange and Teaching Program, but couldn't bring herself to leave when her term was up. She went back to Labo for three more years before deciding that a graduate degree back in the U.S. was next on her list.
Even coming to SIS was a product of her time in Japan, having met an SIS alumna at a conference.
"I told her I wanted to apply to grad school, and she mentioned she had gone to SIS, but I had never heard of it," Shanti says. "I thought, 'Oh, okay, I'll apply to this place,' and saw a degree in International Communication (IC), which is what I was thinking about."
After finishing her M.A. and a trip to China to study the language, she took a position at the Japan Information and Culture Center, part of the Embassy of Japan in Washington, D.C., and has most recently cofounded, Kizuna Across Cultures (KAC), which started as an earthquake and tsunami relief effort following the March 11, 2011 disaster in Japan. It has evolved into a 501(c)(3) non-profit organization that develops, manages and facilitates a 7-month cultural and collaborative language learning exchange program, Global Classmates, between Japanese and American teenagers via social media.
"Last year, KAC connected 26 schools and about 400 students," Shanti says, "and in March we'll have 30 schools with about 550-600 students. We are hoping we can get some funding so we can grow as people want us to grow, and as we want to grow. Former U.S. Ambassador to Japan John Roos and the Ministry of Education in Japan have been supporters, as has the Embassy of Japan; we're getting a lot of attention."
Though Shanti is currently occupied with KAC work, she's still thinking about the future: perhaps starting an international exchange consulting program, but certainly something in the exchange field.
"Connecting people, especially from the U.S. and Japan, is where my life has led me."