Alumni Profile
SIS Alumnus of the Year Chad Bissonnette, SIS/BA '05, Exemplifies International Service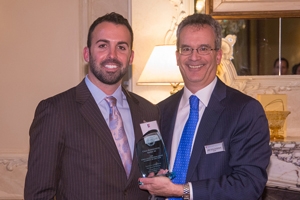 In a ceremony at the residence of the Brazilian ambassador to the United States, His Excellency Mauro Vieira, Chad Bissonnette, SIS/BA '05 was honored with the School of International Service's highest alumnus honor, the SIS Alumnus of the Year award. Nearly 100 AU alumni, friends, faculty, staff, and donors gathered on April 10 to celebrate Bissonnette's achievements and contributions.
Bissonnette, co-founder and executive director of Roots of Development, was nominated by friends, family, and colleagues. SIS received more than 30 nominations from around the world. After reading the many impressive submissions, the selection committee quickly agreed Bissonnette was more than worthy of this year's award.
Guests gathered in one of the elegant residence rooms to listen to remarks made by SIS Dean James Goldgeier. The Dean also read congratulatory remarks from Liliana Ayalde, SIS/BA '78, the current United States ambassador to Brazil.
Bissonnette's remarks were animated and moving. Roots of Development helps impoverished communities in Haiti manage their own development. "I was 25 years old when I started Roots," Bissonnette said. "I was 25 years old when I was faced with the opportunity to directly fight poverty, to define the role I was going to have in that fight, and to make a mark on the world." In recognition of the impact of Roots of Development, the Ambassador of Haiti, Paul Altidor, attended the ceremony.
Since 1998, the SIS Alumnus/a of the Year award has recognized an SIS graduate or undergraduate alumnus/a who exemplifies the ideals and values of the School -- a change agent serving the community and helping to make the world a better place in the public, private, or nonprofit sector.