Contact Us
SIS Alumni Relations and Development
4400 Massachusetts Avenue, NW
Washington, DC 20016-8143
Stephanie Block
Associate Director of Alumni Relations
block@american.edu
202.885.1616
Students and alumni are welcome to make an appointment with the SIS Office of Alumni Relations to learn more about how to take advantage of their AU SIS Alumni Network. Make your appointment today!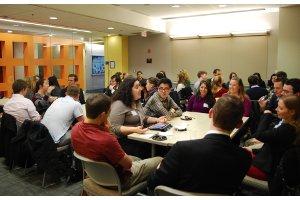 The SIS Alumni-Student Mentoring Program offers an outstanding opportunity for SIS students to gain a career-building head start. Our program bridges academic life and the realities that lie ahead in today's job market.
The Program matches students with alumni mentors for a year, considering each student's career goals and educational interests. Mentors listen and advise, serving as sounding boards and providing guidance and contacts to steer mentees toward their goals.
The program is not limited to metro-DC-based SIS alumni. We welcome "e-mentors" as well. Alumni can mentor students effectively wherever they live. The program's rewards are meaningful and enduring for students and alumni alike.
Stats:
Alumni Matches - 61
Mentors Total - 61
Mentors New - 39
Mentors Returning - 22
Long-Distance Mentors - 18
Mentees Total - 64
Online MA IR Students - 3
Fields:
Consulting
Defense and Intelligence
Entrepreneurs and Business Owners
Finance
Foreign Service
Government Relations and External Affairs
Higher Education
Law
National Security
Employers
Booz Allen Hamilton
Bloomberg Businessweek
Center for Strategic and International Studies
Deloitte Consulting, LLP
Federal Emergency Management Agency
National Parks Conservation Association
Organization for Security and Cooperation in Europe (OSCE)
U.S. Agency for International Development (USAID)
U.S. Air Force
U.S. Army
U.S. Coast Guard
U.S. Department of Energy
U.S. Department of Homeland Security
U.S. Department of Labor
U.S. Department of State
U.S Department of the Treasury
U.S. Energy Association
U.S. Environmental Protection Agency (EPA)
U.S. Navy
Verizon Communications
Voice of America

SIS Student Mentee Application for 2015-16 is Closed
Students gain...
Expert, seasoned perspective to supplement the advice of friends, family and professors.
A personal relationship and freedom to reach out with any question, big or small. The guidance can reach beyond strictly professional topics to truly personal mentoring.
The opportunity to make excellent contacts and valuable networking connections.
A beneficial relationship that transcends a mentors job title due to the range of advice a mentor can offer. Some students have discovered a new field of interest as a result of the mentor's experience.
Mentors gain...
the opportunity to help SIS students think beyond their comfort zones.
inspiration to reinvigorate their own aspirations.
the opportunity to grow as a mentor over the course of a full academic year, and in subsequent years as a returning mentor!
the opportunity to reflect not just on what tools are successful, but the "why" of what makes those tools work. Explaining one's job path or editing a student's resume are helpful in reviewing those "whys."