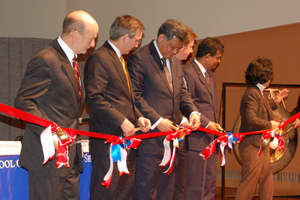 Past Events
December 5: 2012 Book Launch of The Making of Southeast Asia: International Relations of a Region)

November 28, 2012: U.S.-ASEAN Human Rights Symposium

November 16, 2012: The Business Environment in Malaysia

November 1, 2012: Malaysia and the South China Sea

October 31, 2012: Regional Economic Integration in Asia: Myths and Realities

October 12, 2012: The New Fulbright English Teaching Assistant Program in Malaysia

September 27, 2012: ASEAN and the Future of Asia's Regional Architecture

September 26, 2012: U.S.-ASEAN-EAS Strategic Dialogue

Symposium: Working Toward the ASEAN Community in 2015: United States, ASEAN, and EAS Perspectives

September 24, 2012: Panel Discussion featuring the Committee of Permanent Representatives to ASEAN

September 14, 2012: Update on the Pending Elections in Malaysia

May 11, 2012: Relations Between Malaysia and Singapore

April 20, 2012: Panel Discussion by the ASEAN Commission on the Promotion and Protection of the Rights of Women and Children

April 13, 2012: Burma: Moving Forward?

April 13, 2012: Malaysia and the Trans-Pacific Partnership

November 18, 2011:
Race in Malaysia: A Fifty-Year Perspective
November 18, 2011:
Political Reform in Malaysia: Reality or Rhetoric?
November 9, 2011:
A Conversation and Reception Featuring Australian Professors of International Relations
November 8, 2011:
The Evolving Nature of Asian Regional Architecture
November 7, 2011: US-ASEAN-EAS Strategic Dialogue Symposium

November 1, 2011: Briefing for Indonesian Rectors

September 28, 2011: American University Gadjah Mada University Memorandum of Agreement Official Signing Ceremony

September 28, 2011: ASIA 2050: Realizing the Asian Century

September 15, 2011: Will the Real Malaysia Please Stand Up?

September 9, 2011: Developing Collaborative Relations Between the U.S. and ASEAN

May 27, 2011: Indonesia's Vision as the 2011 Chair of ASEAN

May 19, 2011: Democracy, Political Change, and Global Governance: A Discussion with ASEAN Secretary General                    

May 11, 2011: Addressing Human Trafficking Issue in Malaysia and Southeast Asia

April 13, 2011: Prospects for Malaysia's Political Economy

March 25, 2011: Forging a Common Market in ASEAN: Legal and Political Dimensions

March 23, 2011: The South China Sea as China's Core Interest: What Role for ASEAN?

February 25, 2011: Islam in a Multicultural World: Experiences from Malaysia and the United States

February 7, 2011: "ASEAN 2030: Growing Together for Shared Prosperity" Workshop

November 15, 2010: The ASEAN Intergovernmental Commission on Human Rights: Agendas for US-ASEAN Human Rights Collaboration and Research

November 1, 2010: AICHR and the ASEAN Declaration on Human Rights: NGO Perspectives

October 25, 2010: Vietnam: The Limits of Liberalization

September 22, 2010: U.S.-Malaysia Relations Under the Najib Administration

September 21, 2010: U.S.-ASEAN Summit Strategic Dialogue Roundtable

September 9, 2010: Crafting a Comprehensive Partnership: A New Era of U.S.-Indonesian Relations
April 29, 2010: Book Launch—Realizing the ASEAN Economic Community: A Comprehensive Assessment

April 15, 2010: Contemporary Political Developments and the New Economic Model in Malaysia

April 8, 2010: Foreign Involvement and Prospects for Change in Burma

March 4, 2010: Key Issues in the Relations between Malaysia and Indonesia
February 25, 2010: First ASC Speaker Forum: "America and Asia's New Regionalism: What Place is There for the 'Resident Power?'"
February 16, 2010: ASEAN Studies Center Launch Ceremony and Symposium, "ASEAN and Regionalism in East/Southeast Asia"

December 9, 2009: First US-ASEAN Inter-University Dialogue: Campus Life and Career Objectives in the US and Malaysia
November 6, 2009: Young American Voices on Malaysia and Southeast Asia Roundtable

November 4, 2009: Obama in Asia: Updating and Accessing U.S. Policy in Southeast Asia
October 9, 2009: Malaysia-U.S. Strategic Partnership Conference