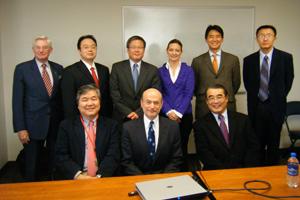 Since the 1960s, American University's Center for Asian Studies has coordinated Asian studies activities to promote deeper mutual understanding between Asia and the United States. Its mission is comprised of the following elements:
Education
Development of curriculum, courses, and certification in Asian Studies. Creation of new faculty lines in Asian studies. Coordination of dual degree and exchange programs with Asian universities.
Research
Coordination of lectures, seminars, and research projects, and publications in the area of Asian studies. Research and teaching are conducted on such topics as political economy, civil society, democratization, international relations, foreign policy, gender, race, culture, labor, and migration issues.
Outreach
Organization of joint projects, executive training programs, and international conferences which build connections between teaching and research institutions and between policy analysts and practitioners.
Fundraising
Raise domestic and international funds and grants to promote teaching and research in Asian studies.
Cultural and Social Activities
Sponsor student clubs, Asian festivals, and other events.

News
The Path to a New Type of Great Power Relations, Patrick M. Cronin, Pacific Forum CSIS, PacNet Number 80, Nov. 7, 2013.

Korea-Japan Divergence
, Evan Ramstad, Center for Strategic & Intenrational Studies, Korea Chair Platform, Nov. 1, 2013.
"No War in the East China Sea" in Clash of National Identities: China, Japan, and the East China Sea Territorial Dispute, eds, Tatsushi Arai, Shihoko Goto, and Zheng Wang. Washington, DC: The Woodrow Wilson Center, 2013, pp. 35-44.
"Moving between the 'Inner Circle' and the 'Outer Circle': The Limited Impact of Think Tanks on Foreign Policy in China," in China's Foreign Policy: Who Makes It, and How is It Made?, ed, Gilbert Rozman. Seoul: The Asan Institute for Policy Studies, 2012, pp. 123-147.
"East Asia Views EU—Hard Power, Soft Power, and Strategic Thinking," in Perspectives for a European Security Strategy towards Asia, eds., Gustaaf Geeraerts and Eva gross. Brussels: VUB Brussels University Press, 2011, pp. 209-228.

Ongoing Events 2013
Keep up-to-date with ongoing events at the Center for Asian Studies and join the listserv! Send an email to listserv@american.edu with the text "Subscribe ASIANSTUDIES-L FIRST NAME LAST NAME" (without quotes) in the body. Example: Subscribe ASIANSTUDIES-L JOHN SMITH.
Washington Asia Forum

UPCOMING:
2014 Scheduling TBA. Check back for updates.

Oriental Workshop

UPCOMING:
Xiaorong Liu, Shanghai No.2 Military Medical University, "Examining the Security Culture of Naval Crews through China's Maritime Strategy"


Jaeho Hwang, Hankuk University of Foreign Studies, "The Park Geun-hye Administration's Reoriented Policies toward China"
Events Around DC

UPCOMING:
For a list of past events, please visit our Washington Asia Forum page here.