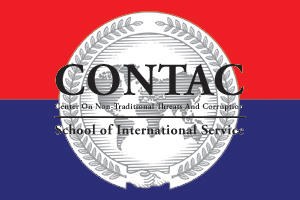 Mission Statement
The Center on Nontraditional Threats and Corruption (CONTAC) is a teaching and research center at American University's School of International Service.  The Center is dedicated to exploring the causes, consequences and efforts to combat corruption, as well as global, nontraditional threats to international security.  These threats increasingly come from non-state actors such as organized crime groups, terrorist groups, and insurgencies, among others.
One of CONTAC's main objectives is to explore the links between corruption and nontraditional threats, and the extent to which one may perpetuate and strengthen the other. The Center analyzes how corrupt governments, or failing states in which corruption is pervasive, may foster the creation and growth of these groups, and how important emerging markets, such as China, Brazil, and India, reduce corruption during political and socioeconomic transitions.  CONTAC also explores the contention, supported by increasing evidence, that non-state actors intentionally work to make states more corrupt by undermining their institutions and people's confidence in the state to provide security and basic services.  Do corrupt states provide a breeding ground for threats, or do the threats themselves undermine the state and bring about corruption?  Or do both scenarios have an empirical basis?  While such questions are not easy to answer, through research and collaboration with experts in the field CONTAC aims to shed light on these critical issues.
CONTAC benefits from its home at American University's School of International Service (SIS).  Founded in 1957, SIS is now the largest school of international affairs in the United States, with eight programs of study and over 2,500 students from 150 countries.  The diversity of both students and faculty provides an invaluable resource for collaboration and a source of unique perspectives on international issues.  In addition, Washington, D.C. is an excellent location to conduct research on the issues of corruption and nontraditional security threats.  CONTAC draws on the expertise of government institutions such as the Departments of Justice, State, and Homeland Security; USAID; foreign embassies; the business community; the World Bank and the Inter-American Development Bank; UNDP and NGOs and think tanks such as Global Integrity, Transparency International, and Global Financial Integrity, that address issues of security, good governance, corruption, and accountability.