Contact Us

Location on Campus: Main Campus, East Quad Building, Room 101

Phone: 202-885-2018
Fax: 202-885-2494
Email: cpd@american.edu

Recent CPD Events

Network for Peacebuilding Evaluation Meeting


On November 7, 2013 the Center for Peacebuilding and Development hosted the Network for Peacebuilding Evaluation (NPE) meeting. The meeting aimed to bring together representatives from peacebuilding organizations all over the world, including Europe, the Middle East, and South Asia to reflect on ways to improve peacebuilding initiatives. The main topics this meeting were the Meta-Evaluation and creating a field guide in an effort to capture output for initiatives within budgets. AU's Win Rodgers proposed the launch of the Online Community of Practice (CoP) to open communication and exchange of ideas within the international peacebuilding community, as well as strengthen the connection between theory and practice. NPE is also looking to adding between 25 and 40 members to its community and asked current members of the Steering Committee to bring different prospects to the table in the future. NPE looks forward to expanding the field of peacebuilding evaluation and research through further communication.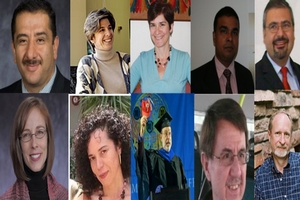 Network for Peacebuilding Evaluation steering committee members Mohammed Abu-Nimer, Diana Chigas, Colleen Duggan, Asela Kalugampitiya, Ziad Moussa, Reina Neufeldt,Thania Paffenholz, Marc Howard Ross, Ricardo Wilson-Grau and Peter Woodrow
For all event photos, click here
Recent Kurdish Events

Film Screening: Half Moon
October 22nd, 2013
the Center for Peacebuilding and Development held a Kurdish Film Night screening of Director Bahman Ghobadi's film "Half Moon." The film tells the story of the elderly, but legendary Kurdish musician, Mamo, who is desperately trying to make his way to Erbil, Iraqi Kurdistan for a final concert. Rounding up his ten sons and a woman with a "celestial voice" the group embarks on a haphazard journey in a converted school bus, all the while, Mamo is having premonitions of his own death on the day of the half moon.

Art Exhibit: In History's Shadow
October 28th, 2013
An art exhibition of Kurdish artist Ayad Almissouri's work was held in the main atrium of the School of International Service at American University. The event featured paintings, drawings, and woodcuts from the artist. The exhibition, which also included informative panels about Kurdish history and culture, was heavily viewed, as the foot traffic through the SIS atrium was at times very busy. Kurdistan TV was also present and will be running a segment of the work of Mr. Almissouri and the work of the Barzani Fellows at American University.

For all past events and full descriptions, click here.