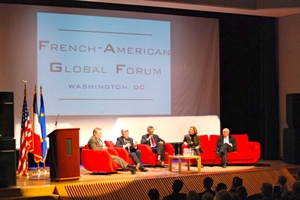 After the success of its first season in 2012-2013 in which hundreds of people took part, Le Monde diplomatique, Le Monde diplomatique - English Edition, and the French-American Global Forum (FAGF) have decided to renew their partnership for 2013-2014. In association with the School of International Service of the American University (Washington, DC), a second series of debates will take place at the university campus starting in October 2013.
As in the first season, each debate will feature speakers from both sides of the Atlantic, and institutions such as Brookings, the Center for Strategic and International Studies (CSIS), etc.
"Le Monde Diplomatique Debates - Washington, DC" hopes to contribute to the debate on the major themes of global geopolitics, and introduce American intellectuals to the outlook of Frances's most international newspaper, through its English language edition, published in London. This is available worldwide on subscription, in print, digital and online editions, via www.mondediplo.com and can also be found in selected outlets in the United States.