Event Bulletin

Are you getting the SIS Event Bulletin? Subscribe now!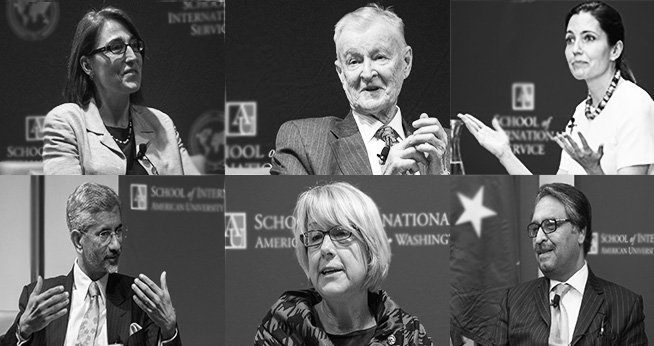 The School of International Service strives to provide engaging and educational events that reflect the broad interdisciplinary interests of SIS students and faculty. Guest speakers include current and former government officials, civil society leaders, environmental stewards, human rights activists, social entrepreneurs, and more.


Past Event Highlights:


Dean's Discussion: Vali Nasr
The Dispensable Nation: American Foreign Policy in Retreat
September 9, 2014

Dean's Discussion: Francis Fukuyama
Political Order and Political Decay: From the Industrial Revolution to the Globalization of Democracy
October 8, 2014

SIS Special Forum: Fighting ISIS 
The Future of American Foreign Policy in the Middle East
October 15, 2014

Dean's Discussion: Carrie Hessler-Radelet
The Peace Corps Today
January 13, 2015

Dean's Discussion: Zbigniew Brzezinski
U.S. Leadership Amidst Global Instability
March 26, 2015

Dean's Discussion: Sarah Sewall
Preventing Atrocities and Violent Extremism
April 7, 2015

A Discussion with Evan Ryan
How International Exchange Programs Advance U.S. Public Diplomacy
April 16, 2015
Plan Your Event

Interested in holding your event in the SIS building?

RSS
Events Calendar
Coming Soon