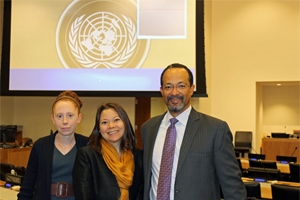 On September 23, a delegation from the Institute on Disability and Public Policy, including Executive Director Dr. Derrick L. Cogburn, Assistant Director of Communication Ms. Maya Aguilar, and Program Coordinator Ms. Kerry Honeycutt, participated in the United Nations (UN) General Assembly High Level Meeting on Disability and Development (#HLMDD) UN Headquarters in New York.The theme of the meeting is "The Way Forward: A Disability Inclusive Development Agenda Towards 2015 and Beyond."
Professor Hillary Mann Leverett published "Obama's Refusal to Respect Iran's Sovereign and Treaty Rights Continues to Thwart Diplomacy, Leaving America on the Self-Defeating Path to War" (with Flynt Leverett) in goingtotehran.com on November 12th.
Professor Mohammed Abu-Nimer published "Evaluation in Violently Divided Societies: Politics, Ethics and Methods" in the Journal of Peacebuilding & Development on September 19.
Maria Glenna, SIS/MA., published a conflict resolution/political science op-ed article for the Search for Common Ground News Service.
Professor Susan Benesch has just been named a Faculty Associate of the Berkman Center for Internet & Society at Harvard University.
Associate Dean Leeanne Dunsmore and Director of Operations for Online Programs Matthew Meekins published an article in IIE Networker detailing TOQUES, the AU approach to online higher education.
Professor Loubna Skalli-Hanna was the keynote speaker on September 11 at the National Defense University for their symposium on "The Next Generation of Leaders in MENA," organized by the Near East Center for Strategic Studies.
Professor Susan Shepler will receive a grant from the Spencer Foundation for her project, "Education, State Fragility, and Armed Conflict in West Africa." Currently a Fulbright Scholar in Nigeria, she is studying the effects of formal education on armed conflict in four countries in West Africa – Nigeria, Cote d'Ivoire, Liberia and Sierra Leone.

Professor Ji-young Lee has been selected as one of five fellows for the East Asia Institute Fellow Program. She will present her research at seminars and give lectures in institutions in China (Peking University), Korea (EAI), and Japan (Keio University) over the next year.

Professor Robert Pastor contributed a chapter, "The Caricature and the Man," to ZBIG - The Strategy and Statecraft of Zbigniew Brzezinski (Johns Hopkins University Press, 2013).

Professor Robin Broad will be a panelist at Yale University's "Food Sovereignty: A Critical Dialogue" September 14-15.

The Association for Research on Nonprofit Organizations and Voluntary Action has recognized the book in which Professor Amanda Taylor contributed a chapter and was on the research team, A Match on Dry Grass: Community Organizing as a Catalyst for School Reform, as the Honorable Mention for the 2013 Virginia Hodgkinson Research Book Prize.

Professor Christopher Rudolph has been elected as the president of the SIS faculty.
Professor Loubna Skalli-Hanna published "Sun, Sea and Sex Scandal: Morocco's Shady Status as a Sex Tourism Hotspot" in Think Africa Press on August 28.

Professor Derrick L. Cogburn recently presented at the 2013 Annual Meeting of the American Political Science Association (APSA). In addition to his paper presentation, he was asked to conduct a special session with the 2013 Ralph Bunche Summer Fellows about graduate school academics and his research projects. The Ralph Bunche Fellowship program competitively selects undergraduate students from across the country to take part in a series of professional development and mentoring experiences.

Professor Garrett Graddy's new article, "Situating In Situ: A Critical Geography of Agricultural Biodiversity Conservation in the Peruvian Andes and Beyond," has been published in Antipode.

Professor Ryan Vogel spoke on "Drone Warfare under the Law of War" at Fordham Law School's Human Rights and the Use of Drones in International Law Symposium in April. More recently, he published "Droning On: Controversy Surrounding Drone Warfare Is Not Really About Drones" in the Brown Journal of World Affairs' spring/summer edition.

Professor Ji-young Lee's article, "Diplomatic Ritual as a Power Resource: The Politics of Asymmetry in Early Modern Chinese-Korean Relations," appeared in the Journal of East Asian Studies in the May-August 2013 issue. She also contributed two chapters, "Politics of South Korea" and "Politics of North Korea," to Oxford Bibliographies Online: Political Science.

Professor Maria de Jesus published an article, "The Impact of Mass Media Health Communication on Health Decision-Making and Medical Advice-Seeking Behavior of U.S. Hispanic Population" in the July 2013 issue of the Health Communication Journal.

Professor Ray Leki will offer the keynote address at the Society for Intercultural Education, Training and Research conference in Washington, D.C.on November 7.

University Professor James Mittelman's article "What's in a Name? Global, International, and Regional Studies" appeared in the journal Globalizations in August. He delivered a public lecture titled "The Global Transformation of Universities: Racing for the Top" at Makerere University in Uganda.

Associate Dean for Undergraduate Education Patrick Thaddeus Jackson, Professor Julie Mertus, Professor Simon Nicholson, and Professor Rose Shinko all authored chapters in Making Sense of International Relations Theory (Second Edition, Lynne Rienner Publishers).

Professor Daniel Esser's article, "Social Media and Global Development Rituals: A Content Analysis of Blogs and Tweets on the 2010 MDG Summit," was published in Third World Quarterly (co-authored with Tobias Denskus at Malmö University).

Professor Carolyn Gallaher published "U.S.-Mexico: Border Liaison Groups - the Bread and Butter of Cooperation" (with David Shirk) on the Center for Latin American and Latino Studies blog.

Professor Nina Yamanis was selected as a Health Disparities Scholar for the National Institutes of Health's Loan Repayment Program. She also was the lead author of the article "An Empirical Analysis of the Impact of Recruitment Patterns on RDS Estimates among a Socially Ordered Population of Female Sex Workers in China," published in Sociological Methods and Research in July.

Professor Judith Shapiro published "China's Environmentalists Adapt" in the September 2013 issue of Current History.
Professor Loubna Skalli-Hanna discussed child sex tourism in Morocco on Al-Jazeera on August 8.

Professor Emeritus John Richardson's work in sustainable development and public policy was recognized with the lifetime achievement award from the System Dynamics Society. The award was presented July 23 during the Society's Annual International System Dynamics Conference in Cambridge, Mass.

Professor Celeste Wallander published "Mutually Assured Stability: Establishing U.S.-Russia Security Relations for a New Century" on the Atlantic Council website in July.

Professor Guy Ziv will serve, beginning in fall 2013, as SIS's Foreign Policy and National Security Undergraduate Thematic Area coordinator, and Professor Elizabeth Cohn has been named as the faculty coordinator for Undergraduate Teaching and Learning.

Professor Mohammed Abu-Nimer recently published "Forgiveness in the Arab and Islamic Contexts: Between Theology and Practice" with Ilham Nasser in The Journal of Religious Ethics.

Ambassador Dane Smith participated in a panel presentation, "President Obama's Visit to Africa: Potential Impacts and Implications on U.S./Africa Relations," sponsored by the Africa Working Group of the National Academy of Public Administration July 12.

Kia Hall, SIS/Ph.D., has received the Sylvia Forman Student Paper Prize from the American Anthropological Association for her paper, "The Masculinization of Ereba: Converting Women's Work into Men's Capabilities."

Professor Maina Singh presented a paper, "Contesting Diaspora Stereotypes: Indian-Americans in U.S. Politics," at "Diasporas: Exploring Critical Issues" 6th Global Conference at Mansfield College, Oxford in July. She also addressed members of the Young India Fellowship Program in New Delhi in May. The one-year program brings together 100 young men and women specially selected as potential change-makers for India.

Professor Carl LeVan wrote to Secretary of State John Kerry expressing concern about the status of a key human rights law. 79 other professors signed the letter. In August, LeVan received a response from the top: a letter from Secretary Kerry promising to vigorously implement the Leahy Law and affirming accountability for human rights violations as a core principle of U.S. foreign policy towards Africa.

Dean Emeritus Louis Goodman recently published "Kal's Gift" in the Spring 2013 issue of the Latin American Studies Association Forum as the first of a series of articles commemorating the upcoming 50th anniversary of LASA. He also published, with Professor Johanna Mendelson Forman, "Behind the Middle Class Military Coup" in Open Democracy in July.

Dean James Goldgeier has been named the Secretary/Treasurer of the Association of Professional Schools of International Affairs (APSIA) Executive Committee.

Professor Robert Pastor was awarded an honorary Doctor of Public Service degree from his alma mater, Lafayette College (Pa.).

Professor Mike Schroeder's article, "The Politics of Change: The Evolution of UN Electoral Services, 1989-2006," appeared in the April-June 2013 issue of Global Governance: A Review of Multilateralism and International Organizations.

Professor Manuel Orozco published Migrant Remittances and Development in the Global Economy (Lynne Rienner Publishers).