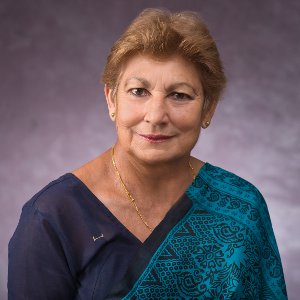 Surjit Mansingh
Adjunct Professor
School of International Service
Professor Surjit Mansingh presently teaches as an adjunct in the School of International Service. She retired a few years ago from her position as Professor and Chairperson, Centre for International Politics at the Jawaharlal Nehru University, New Delhi. She has taught at other Universities in the US, India and Europe and began her professional life as a member of the Indian Foreign Service. She is the author of many books and papers on foreign relations and Indian history.

Degrees

PhD, International Studies, American University, MA, History, Delhi University, India, BA (Honours) History, Delhi University

Favorite Spot on Campus:

The Quad


Languages Spoken:

English, French, Hindi, Punjabi
Loading ...

OFFICE

SIS-School of Intl Service
SIS
FOR THE MEDIA

To request an interview for a
news story, call AU Communications
at 202-885-5950 or submit a request.
Scholarly, Creative & Professional Activities
Research Interests
For many years now my main research interest has been the comparative study of India and China, especially the relations of each with the United States. A continuing research interest is in Indian foreign policy, recently facilitated by declassification of archives and private papers.
Grants and Sponsored Research
   
Grant from the Lyndon B. Johnson Foundation
   
Grant from the American Institute for Indian Studies
   
Grant from the American Association of University Women
Professional Presentations
   
Johns Hopkins University, Baltimore
   
School of Advanced International Studies, JHU, Washington DC
   
George Washington University, Washington DC
   
Chretian Michelson Institute, Bergen, Norway
   
Chinese Institute of International Studies, Beijing
   
University of Lisbon, Lisbon, Portugal
   
National Defence College, New Delhi, India
   
Defence Forces Staff College, Wellington, India
   
Central Institute of Strategic Studies, Jakarta, Indonesia
   
Institute of Southeast Asian Studies, Singapore     
Executive Experience
   
Chairperson, Centre for International Politics, Jawaharlal Nehru University, New Delhi, India.
   
Desk Officer/ United Nations in Ministry of External Affairs, New Delhi.
   
Second Secretary, Embassy of India, Washington DC.     
Honors, Awards, and Fellowships
   
Associate in IREX Award for a Parallel History Project on Soviet-Indian relations during the Cold War.
   
Fellowship from the Nehru Memorial Centre for Contemporary Studies.
   
Fellowship from the Indian Council for Social Science Research.
   
Ranked first in the all-India competitive examination for the Indian Foreign Service.
Selected Publications
   
Concise Encyclopedia of Indian History. New Delhi: Vision Books, 2009.
   
"Rising China and Emergent India in the 21st Century: Friends or Rivals?" Korean Journal of Defense Analysis, Winter 2007.
   
Historical Dictionary of India. Lanham: Scarecrow Press (second edition) 2006.
   
International Rivalries in the 20th Century. New Delhi: Indira Gandhi Open University, 2003.
   
"India and China in Comparative Perspective: Between Asian Community and Globalization" in B. Vigezzi, ed.  Regionalism and Globalisation,  Milan, 2001.
   
Prospects for India-United States Relations: The Next Ten Years. New Delhi: Habitat Centre, 2000.
   
Nehru's Foreign Policy: Fifty Years On. New Delhi: Mosaic Books, 1998.
   
Indian and Chinese Foreign Policies in Comparative Perspective. New Delhi: Radiant Press, 1996.
   
India's Search for Power: Indira Gandhi's Foreign Policy. Beverly Hills: Sage Publications, 1984.
   
Diplomatic History of Modern India (1919-1965),with Charles H. Heimsath. Delhi: Allied, 1971.
Media Appearances
   
Voice of America, Hindi programs
   
NDTV, New Delhi
   
NBC
   
CBS      
Work In Progress
   
An Evolving Triangle? The US, India and China in the 21st Century: Old and New Relationships in a Changing International System.