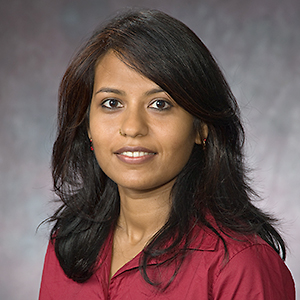 Tazreena Sajjad
Professorial Lecturer
School of International Service
Dr. Tazreena Sajjad is a Professorial Lecturer in the International Politics program. Prior to this, she served as adjunct faculty for Human Rights and for the Community of Scholars Program at AU. Until 2006, Dr. Sajjad worked as the Global Rights' Asia Program Associate in Afghanistan. She has also worked at the National Democratic Institute for International Affairs for the South Asia Division, as a research analyst for Survivors' Rights International and as an independent consultant for the Afghanistan Research and Evaluation Unit (AREU) in Kabul. Her scholarly research and publications examine questions of human rights and conflict, transitional justice, the experience of women in war and peacebuilding, and civil society and post-conflict reconstruction. Her book "Transitional Justice in South Asia: A Study of Afghanistan and Nepal" is forthcoming from Routledge.

Degrees

PhD and MA, American University, BA, Political Science and International Studies, Macalester College, International Baccalaureate, Red Cross Nordic United World College, Norway
Loading ...

OFFICE

SIS - School of International Service
East Quad Bldg - 203A
Monday 3:00 - 6:00 p.m. Tuesday 1:00 - 2:00 p.m.
FOR THE MEDIA

To request an interview for a
news story, call AU Communications
at 202-885-5950 or submit a request.
Teaching
Spring 2013

SIS-106 First Year Seminar: War Politics & Silver Screen

SIS-319 Topics in Int'l Relations: Humanitarian Intervention
Fall 2013

SIS-619 Special Studies in Int'l Pol: Refugees/Migration/Trafficking

SISU-106 First Year Seminar: War, Politics & Silver Screen
Scholarly, Creative & Professional Activities
Research Interests
Human rights and conflict, humanitarian intervention, states of emergency, the role of civil society and victims' groups in transitional justice, peacekeeping operations, disarmament, demobilization and reintegration programs (DDR), women in war and in peacebuilding efforts.
Selected Publications
Transitional Justice in South Asia: A Study of Afghanistan and Nepal (Routledge, Summer 2013)
"Women and Peace Processes," in Women and Wars, (with Julie Mertus and Malathi de Alwis) (ed) Carol Cohn, Polity Press 2013.
"Rape on Trial? The Promise of International Jurisprudence, the Perils of Retributive Justice and the Realities of Impunity" in Rape: Instrument of War and Genocide (eds) John Roth and Carol Rittner, Paragon House 2012.   
"Feminisms in International Human Rights Post 9/11" in International Human Rights Post 9/11 (co-authored with Julie Mertus), Palgrave Macmillan, 2011.
"Book Review: A Woman Among Warlords: An Extraordinary Story of a Young Woman Who Dared to Raise Her Voice, Jura Gentium," Journal of Philosophy of International Law and Global Politics, VII, 1, 2011.   
"These Spaces in Between: The AIHRC and Its Work on Transitional Justice," The International Journal of Transitional Justice, Vol 3, Oxford University Press, 2009.   
"Post-Genocidal Trauma and its Impact on Women in Genocide" in The Plight and Fate of Women During and Following Genocide, Vol 7. (ed) Sam Totten, Transaction Publishers, CA 2009.   
"Human Rights and Human Insecurity: The Contributions of US Counter-Terrorism," (co-authored with Julie Mertus), Journal of Human Rights, Vol 7, Issue 1, 2008.   
"Human Rights Post September 11," (co-authored with Julie Mertus) in Exploring International Human Rights, Lynne Rienner Publishers Boulder, CO, 2007.   
"When Civil Society Promotion Fails State-building: The Inevitable Faultlines in Post Conflict Reconstruction," (co-authored with Julie Mertus), in Subcontracting Peace: The Challenges of NGO Peacebuilding, eds Oliver P. Richmond and Henry F. Carey, Ashgate Publishing, UK  2005.
Professional Presentations
Gendering the Ballot Box: Electoral Violence and Women's Participation in Election Cycles, iSA, 2013
Into Thin Air: The Case of Enforced Disappearances in Bangladesh, Politics and Human Rights in South Asia, NYU, 2012
Voices in the Shadows: Power, Participation and Exclusion in Transitional Justice, ISA, San Diego, 2012
Conducting Human Rights Research in Conflict Zones, Human Rights Week, AU, 2011
Gender, Disability, and Conflict: Dialogues for Inclusion, Human Rights Week, AU, 2010
Dimensions of Inclusion: Implementing UNSCR 1325, UNIFEM, 2010
Women in the Mix? Operationalizing Gender in Provincial Reconstruction Teams (PRTs) in Afghanistan, ISA, 2010
Critique of Stopping Genocide Through International Agreement When the Security Council Fails to Act,  International Association of Genocide
Mind the Gap: An Analysis of the Rule of Law and Transitional Justice in Afghanistan, Woodrow Wilson Center, 2009
Beyond the Realms of the State: Transitional Justice and Civil Society, ISA, 2009
Executive Experience
Consultant, Afghanistan Research and Evaluation Unit (AREU), Kabul Afghanistan, 2011.

AU Human Rights Council, 2008-2009.

Adjunct Faculty, SIS, American University, 2008-2009.

   

International Election Observer, Nepal, The Carter Center, 2009.

  

Global Rights Afghanistan, Kabul and Washington, DC, 2005-2006.

 

National Democratic Institute, South Asia Division, 2001-2002.
Honors, Awards, and Fellowships
Brady Tyson Award for Excellence in Work Related to Human Rights, 2011.   
Fellowship, Women and International Law, Washington College of Law, 2004.   
Gandhi Memorial Scholarship, Gandhi Center, 2004.   
De Witt Scholarship, Macalester College, 1997-2001.                                           
Grants and Sponsored Research
Bridging the Gaps: A New Framework for Gender and Electoral Violence 2012-2014 (USAID CMM grant with the International Foundation for Electoral Systems)
SIS Dissertation Fellowship, SIS American University, 2009-2010.   
Abdul Aziz Said Scholarship, American University, 2008.   
Fellowship, Institute for Inclusive Security, 2008.   
Dean's Fellowship, SIS, American University, 2005-2008.
Media Appearances
Bangladesh War Crimes Trials Stir Old Tensions, The Current, Canadian Broadcasting Corporation (March 11, 2013)
Bangladesh's Rising Voices, The Stream, Al-Jazeera, (February 19, 2013)

Bangladesh and Terrorism

, Bangladesh Television,

2009

.

   
War Crimes and the Awami League (AL) Election Manifesto

,

RTV

,

Program: "Road to Democracy, Dhaka," 2008

.

 
The Road to Transitional Justice for 1971, RTV, Program: "Road to Democracy, Dhaka

,"

2008.