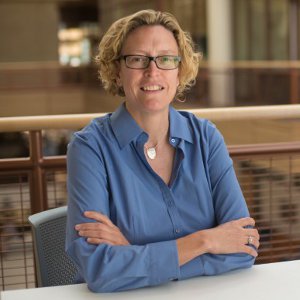 Sharon Weiner
Associate Professor
School of International Service
Additional Positions at AU

Director of Doctoral Studies

Sharon K. Weiner writes about the intersection of organizational politics and U.S. national security policy. Her book Our Own Worst Enemy? Institutional Interests and the Proliferation of Nuclear Weapons Expertise (MIT Press 2011) examines the role of organizational and partisan politics in the success and failure of U.S. cooperative nonproliferation programs with the former Soviet Union. It is the winner of the 2012 Louis Brownlow award from the National Academy of Public Administration. She is currently finishing a book on U.S. civil-military relations and especially the policy implications of the organization of the defense department. Her work has appeared in International Security, Political Science Quarterly, The Nonproliferation Review, as well as other journals. She also pursues research and teaching interests in U.S. relations with South Asia, nuclear strategy and nonproliferation, and U.S. foreign and defense policy. She holds a PhD in Political Science from MIT's Security Studies Program.

Degrees

PhD, political science, Massachusetts Institute of Technology; MA, University of Lancaster (UK); BS, Northeast Missouri State University; BA, Northeast Missouri State University
Loading ...

OFFICE

SIS-School of Intl Service
SIS - 313
Tuesdays 8:00 p.m. - 9:00 p.m. and Wednesdays 4:30 - 6:30 p.m.
FOR THE MEDIA

To request an interview for a
news story, call AU Communications
at 202-885-5950 or submit a request.
---
Scholarly, Creative & Professional Activities
Research Interests
Dr. Weiner's research focuses on security and the interface between institutional design, bureaucratic politics, and U.S. defense and foreign policy. Her current project looks at joint U.S.-Russian efforts to control the proliferation of weapons experts and materials from the former Soviet nuclear and biological weapons complexes.  Other projects focus on Army modernization and weapons procurement for Iraq, defense organization and civil-military relations, and the role of scientific expertise in US foreign policy.
Selected Publications
"Reconsidering Cooperative Threat Reduction: Russian Nuclear Weapons Scientists and Non-Proliferation," Contemporary Security Policy, Vol. 29, No. 3 (December 2008), pp. 477-501.   
"Preventing Nuclear Entrepreneurship in Russia's Nuclear Cities," International Security Vol. 27, No. 2, Fall 2002. Reprinted in: New Global Dangers: Changing Dimensions of International Security (Cambridge, MIT Press, 2004).
Residencies
Developed and led the first SIS study abroad program in India during summer 2008.
Honors, Awards, and Fellowships
Visiting Scholar Fellowship, American Academy of Arts and Sciences, 2005-2006   
Lifton Fellowship for Teaching Nuclear Weapons issues, 2004-2005   
"Scholar of Vision" award, The Carnegie Corporation of New York, 2001-2003
Professional Presentations
"The Proliferation of Nuclear Knowledge from Russia: Changes since the Collapse," American Association for the Advancement of Slavic Studies, 2006 Annual Convention, Nov. 17, 2006, Washington, DC.   
"Controlling the Proliferation of Nuclear Knowledge from Russia: Changes in Threat, Changes in Response," Managing the Atom, John F. Kennedy School of Government, Harvard University, April 27, 2006.   
"Controlling the Proliferation of Nuclear Knowledge from the Former Soviet Union," Security Studies Program, Massachusetts Institute of Technology," April 26, 2006.   
"Cooperative Threat Reduction: Status, Problems, Prospects," guest lecture, Protection Against Weapons of Mass Destruction, Woodrow Wilson School of Public and International Affairs, Princeton University, April 17, 2006.
"Securing Russia's Nuclear and Bioweapon Facilities," War on Terror: Results and Costs from Europe to Central Asia, the 19th Winter Course of the International School on Disarmament and Research on Conflicts, January 8-15, 2006, Andalo, Italy.   
"The Threat of Nuclear Proliferation from the FSU," Shield New York Against Nuclear and bio-Terrorism," September 29-30, 2005, John Jay College, City University of New York.
Work In Progress
Defending Congress: The Politics of Defense Organization – a study of the influence of the organization of the defense department on civil-military relations 
Explaining the MRAP Delay – an analysis of contending arguments about delays in providing Mine-Resistant Ambush Protected Vehicles to troops in Iraq   
Cooperative Threat Reduction:  Progress and Politics  -- an overview of accomplishments and lessons learned from almost two decades of cooperative threat reduction with the former Soviet Union