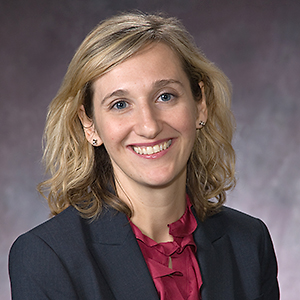 Thespina Yamanis
Assistant Professor
School of International Service
Dr. Thespina (Nina) Yamanis' professional interests are in identifying the mechanisms that link social and economic conditions to global health disparities and in designing community-based interventions to improve health among the most vulnerable groups. She has conducted qualitative and quantitative field research for the past six years on the social and sexual networks of young, urban men in Tanzania and their influence on the men's HIV risk behavior. She is Co-Investigator on a grant from the National Institute of Mental Health to conduct a combined health promotion/microfinance intervention for young Tanzanian men. She has conducted research on violence against women at the World Health Organization, as well as research on migration and mental health with colleagues at the Instituto Nacional de Salud Pública in Mexico. She currently teaches courses on health in developing countries and micropolitics of development.

Degrees

PhD & MPH, Health Behavior & Education, UNC Gillings School of Global Public Health, BA Psychology, University of North Carolina at Chapel Hill (UNC)

Favorite Spot on Campus:

SIS Building


Book Currently Reading:

Emerging Africa: How 17 Countries Are Leading the Way, by Steven Radelet


Languages Spoken:

Kiswahili, Spanish, Greek, and a bit of French
Loading ...

OFFICE

SIS - School of International Service
SIS - 227
Tuesdays 1-4 pm
FOR THE MEDIA

To request an interview for a
news story, call AU Communications
at 202-885-5950 or submit a request.
Teaching
Spring 2013

SIS-419 Adv Topics in Int'l Relations: Health in the Developing World
Fall 2013

SIS-635 Adv Topics in Development Mgmt: Health in the Developing World
Scholarly, Creative & Professional Activities
Research Interests
Dr. Yamanis' research focuses on improving the health and well-being of underserved populations in developing countries.  Her interests are in understanding and targeting the social determinants of HIV risk and relationship violence, evaluating and implementing novel methods for reaching hidden and vulnerable populations such as sex workers, and developing multi-level interventions that improve health behaviors.  Her current research focuses on harnessing the power and influence of social networks to promote adolescent health in sub-Saharan Africa.
Selected Publications
"From coitus to concurrency: sexual partnership characteristics and risk behaviors of 15-19 year old men recruited from urban venues in Tanzania". AIDS and Behavior, 2012 (with I. Doherty, S. Weir, et al). http://www.springerlink.com/openurl.asp?genre=article&id=doi:10.1007/s10461-012-0312-0
"Social venues that protect against & promote HIV risk for young men in Tanzania", Social Science & Medicine, 2010 (with S Maman, J Mbwambo, et al).
"Intimate partner violence & the association with HIV risk behaviors among young men in Tanzania", J of Interpersonal Violence, 2009 (Maman et al).
"Well-being & family support among elderly rural Mexicans in the context of migration to the U.S.", J of Aging & Health, 2007 (with T Gonzalez et al).
Professional Presentations
"HIV Risk Behaviors among Young Male Injecting Drug Users in Dar es Salaam, Tanzania", International AIDS Conference, 2010.   
"Partnership-level Determinants of Relationship Violence by Young Men in Dar es Salaam, Tanzania", International AIDS Conference, 2010.   
"Neighborhood Poverty and Lifetime Depression among Older, Rural Adults", Society of Behavioral Medicine, 2006.      
Honors, Awards, and Fellowships
Health Disparities Scholar, National Institutes of Health Loan Repayment Program, 2010   
Ruth L. Kirschstein National Research Service Award, U.S. Department of Health and Human Services, Public Health Service, 2007   
C.V. Starr International Research Award, University of North Carolina at Chapel Hill, 2006   
Global Health Fellow, Duke University's Sanford Institute of Public Policy Program on Global Policy and Governance in Geneva, Switzerland, 2006   
Intern, World Health Organization, Department of Gender, Women & Health, 2006   
Meritorious Student Paper Award, Society of Behavioral Medicine, 2006   
Delta Omega Honorary Society in Public Health, 2004   
Lucy S. Morgan Fellowship, University of North Carolina at Chapel Hill, for outstanding leadership in Health Behavior and Health Education, 2004   
Phi Beta Kappa Honorary Society, 1995
AU Expert
Area of Expertise: HIV/AIDS risk behavior, youth, sub-Saharan Africa, hard-to-reach populations, violence against women and HIV

Additional Information: Thespina Yamanis' professional interests are in identifying the mechanisms that link social and economic conditions to global health disparities and in designing community-based interventions to improve health among the most vulnerable groups. She has conducted qualitative and quantitative field research for the past five years on the social networks of young, urban men in Tanzania and their influence on the men's HIV risk behavior and partner violence. Her work is part of a grant funded by the National Institutes of Health in which Yamanis and colleagues are piloting a combined health promotion/microfinance intervention for the men. In addition to her work in Tanzania, she has conducted research on violence against women at the World Health Organization, as well as research on migration and mental health with colleagues at the Instituto Nacional de Salud Pública in Mexico. She currently teaches courses on health in developing countries and on micropolitics of development.


Media Relations
To request an interview please call AU Media Relations at 202-885-5950 or submit an interview request form.