Corporate Social and Environmental Responsibility: Extractive Industries in Latin America

The GEP program will again sponsor a practicum in partnership with the "International Financial Flows and the Environment" program at the World Resources Institute. The project is intended to encourage China to adopt stronger environmental and social policies in its overseas investments. Students will research and write case studies of best and worst examples of overseas investments. This spring, the focus will be on the mining industry in Latin America--possibly Peru-- because the issue is highly controversial there and it has already generated substantial secondary research on which students may build. The team will pay special attention to Chinese investment as well as best and worst examples of international investment from other parts of the world. Some students may work remotely with Chinese students at Zhongnan University in Changsha in Central South China, a center of Chinese research on the mining industry. Some team members will have the opportunity to travel to Latin America during Spring Break to conduct interviews and make field visits. A few might travel to China to conduct interviews with Chinese mining officials there. Others may participate in the practicum through non-travel research options. WRI plans to use these studies to make recommendations to the Chinese government and to provide curriculum content for Chinese companies. The Partner organization for this practicum is the World Resources Institute.

Selection criteria: Students applying for this practicum should have some background, demonstrated through coursework or applied experience, in one or more of the following areas: global resources extraction and extractive industries; social and environmental standards and assessments; global environmental politics; international financial flows. Prior travel/residence in Latin America studying environmental issues is a plus. Students traveling to Latin America to conduct field work must have fluency or strong proficiency in Spanish.

Professor: Judith Shapiro teaches in the Global Environmental Politics program and directs the Dual Degree in Natural Resources and Sustainable Development (NRSD) with University for Peace in Costa Rica. She is the author of China's Environmental Challenges (Polity 2012), Mao's War against Nature (Cambridge 2001) and the co-author of Son of the Revolution (Knopf 1983) and other books on China. Her courses include Environment and Politics, the Washington Environmental Workshop, and Environmental Politics of Asia.
Practicum Update: International Financial Flows and the Environment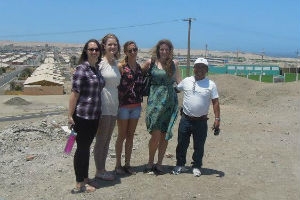 Team Shougang in Marcona
In the spring of 2014, twelve Master's students traveled to Peru to conduct field research and interviews on mining by Chinese corporations. This practicum project was sponsored by the GEP program in collaboration with the World Resources Institute's "International Financial Flows and the Environment" program with the intention of encouraging China to adopt stronger environmental and social policies in its overseas investments.
The students researched case studies of best and worst examples of Chinese investments in Peru's mining sector. The team presented its findings to the World Resources Institute on May 5th. You can see the full report here.

The Environmental and Social Implications of AU's Carbon Offsets Purchases


As part of AU's commitment to achieving carbon neutrality by 2020, the university has entered into a carbon-offset agreement with the non-profit organization Pax Natura, involving forest preservation and carbon sequestration in Costa Rica. The program is designed to offset carbon emissions resulting from travel on university business, including study abroad. Purchasing offsets in general, and avoided deforestation in particular, are controversial carbon reduction strategies, and offset programs operate at highly variable levels of effectiveness. The practicum team will assess the environmental and social impacts of AU's carbon offsets investment. Tasks will include an analysis of the claims made about the Pax Naturaproject, a comparison with best practices in the carbon offset field, and design and execution of a field-based rapid appraisal of social and ecological impacts in Costa Rica. This practicum involves travel to Costa Rica over spring break to conduct the field appraisal. The partner organizations for this practicum are American University Office of Sustainability and University for Peace, Costa Rica.

Selection criteria: Students applying for this practicum should have some background, demonstrated through coursework or applied experience, in one or more of the following areas: conservation forestry/sustainable forestry; rapid appraisal techniques; social and environmental impact assessment; climate change financing; carbon offset programs. Successful completion of SIS 620 "Climate Change Politics" and/or SIS 620 "Post-carbon Transitions" is a plus.

Professor: TBD
U.S. Farm Bill: Agricultural Policy for (Inter)-National Social and Ecological Resilience

Working with the Rural Coalition and National Family Farm Coalition, the practicum team will create an online toolkit to assist efforts by grassroots organizations to reform the next farm bill in the direction of equitable and sustainable agriculture. In developing content for the toolkit, the team will identify, evaluate and compare different policy options related to land access for small and beginning farmers, food aid reform, and crop insurance. The partner organizations for this practicum are the Rural Coalition and the National Family Farm Coalition.

Selection criteria: Students applying for this practicum should have a background, demonstrated through coursework or applied experience, in food systems/food policy. In addition, any of the following would be a plus: proficiency in Geographic Information Systems, successful completion of SIS 620 Political Ecology of Food and Agriculture, and/or work or volunteer experience with a food or agriculture NGO, government agency or multilateral agency.

Professor: Adam Diamond holds a PhD in geography from Rutgers University. Prior to coming to SIS, he worked for the United States Department of Agriculture, where he conducted applied research on local food system development as a strategy for enhancing small and mid-sized farm viability. He also has served as an adjunct instructor in geography at George Washington University and worked as a political organizer for the Sierra Club. Dr. Diamond's dissertation was on the structure and development of the organic milk commodity chain in the Northeast United States.
Drivers of Development and Conflict in the Mekong River Basin
Organizational partner:
US Department of State

Faculty supervisor:
Ken Conca

Student team:
Brandt Burleson, Matthew Espie, Olivia Gilmore, Amanda Johnson, Weini Li, Roman Manziyenko, Linh Nguyen, Xiaocheng Zang
Project summary: The Mekong River Basin is an extremely dynamic and complex ecological system. The river is home to some of the most productive fisheries in the world and a source of livelihoods for millions. The environmental health of the basin and the sustainability of development activities have come under strain from growing populations, intensifying pollution, and infrastructure development. The treaty-based institutional arrangement among the basin countries, the Mekong River Commission, has struggled to forge a workable plan for the basin's future, to coordinate development activities, to include all relevant stakeholders, and to manage and resolve conflicts. The practicum team conducted a survey of more than 160 Mekong experts around the world, from research centers, advocacy organizations, government ministries, and intergovernmental organizations. The survey assessed experts' understanding of development trends, threats to the basin, and potential points of conflict and cooperation in the coming decade. The project also gauged the strength of cooperative ties among different types of stakeholders across the basin and examined networks springing up around new models for financing infrastructure.
Click here for the Mekong Team's report
International Financial Flows and the Environment: Best Practices for Transnational Investment in Extractive and Land Use Sectors
Organizational partner:
World Resources Institute

Faculty supervisors:
Judith Shapiro, Ken Conca

Student team:
Stephanie DaCosta, Kristin DeValue, Hilary Kirwan, Lauren Lane, John Noel, Sebastian O'Connor, Schuyler Olsson, Jen Richmond, Natnari Sihawong, Toussaint Webster, Yuxi Zhao
Project summary: Foreign investment is an important and often contentious issue, in part because of the social and environmental impacts that investing companies may inflict upon the local communities in which they operate. Some investment improves local economic, environmental, and social conditions, while in other instances it has led to tensions between transnational companies and local communities. There are currently few broadly agreed-upon standards to guide how foreign companies should invest and behave in host countries to achieve not only business benefits but also social responsibility and environmental sustainability. In partnership with the World Resources Institute, the practicum team developed a set of case studies documenting examples of best and worst practices around foreign investment in the energy, mining, and agricultural land-use sectors. Each case documents the investment history and project impacts and assesses corporate practices with regard to social and environmental safeguards, and the team's report also makes strategic recommendations for improved performance. The work supports WRI's educational and partnership efforts on investment and corporate responsibility, particularly for investments flowing out of newly emerging economies. As part of its work, the practicum team travelled to Beijing, China, to present its research and coordinate with a WRI partner research team from Beijing Normal University.
Click here for the Financial Flows & Corporate Responsibility Team's full report
 
Farmers, Fairness, and the Farm Bill
Organizational partners:
Rural Coalition, National Family Farm Coalition

Faculty Supervisor:
Garrett Graddy

Student team:
Erika Christensen, David Golding, Casey Harrison, Cameron Harsh, Sarah Howell, Elise Szabo

Project summary: In partnership with the National Family Farm Coalition (NFFC) and the Rural Coalition (RC), the 2013 American University Food and Farm Bill Practicum Team researched, investigated and documented impacts of U.S. agricultural policy in order to connect a human face to the Farm Bill. Specific areas of focus included crop insurance, food aid, gender, media portrayals of agriculture, and land grabbing in the United States. The project culminated in a web-based research and policy toolkit, to be used by scholars, concerned citizens, grassroots activists, or policy makers. The toolkit includes: a synthesis report of the team's research, video interviews, GIS maps, suggested resources, and more.
 Click here for the Farm Bill Team's project web site
Tenth Street Streetscape and Stormwater Policy
Organizational partner:
National Capitol Planning Commission (NCPC)

Faculty Supervisor:
Victoria Kiechel
Student team:
Adam Bremer, Samantha Brooks, Josephine Chu, Cristina Cordova, Emily Curley, Cynthia Elliott, Kara Luggen, Elisabeth Mox, Emma Shlaes

Project summary: The National Capital Planning Commission is developing the Southwest Washington, DC Ecodistrict to transform a 15-block federal precinct just south of the National Mall into a showcase of sustainable urban development. Our team focused on a key streetscape within this precinct: the Tenth Street corridor between the National Mall and Banneker Park, overlooking the Washington Channel. The team's assessment and report evaluates stormwater management and green infrastructure design scenarios and strategies, in order to bolster the environmental and economic benefits of NCPC's SW Ecodistrict plan. The report maps the mandates, regulations, and fees from utilities and public sector authorities; examines the economic costs and environmental benefits of stormwater capture and water re-use within the site; examines scenarios for a district-scale water reuse system; provides a strategy for involving stakeholders in the planning and implementation phases of the plan; and presents best practices for designing district-scale water systems for increased resiliency, energy efficiency, and environmental equity.
Click here for the DC Stormwater Team's report

Water and Peacebuilding in the Middle East
Organizational partners:
Arava Institute for Environmental Studies, Palestinian Wastewater Engineers Group (PWEG), Water Resources Action Project (WRAP), American University Center for Israel Studies (CIS)

Faculty supervisor:
Eric Abitbol, Ken Conca

Student team:
Charles Christian, Joanna Fisher, Moses Jackson, Christy Kehoe, Courtney Owen, Valerie Puleo, Erin Rosner, Heather Speight
Project summary: This report presents original research carried out as part of a graduate practicum organized by the American University School of International Service. The practicum brought together eight graduate students from a range of academic backgrounds to investigate shared interests in water, cooperation and peace. Its primary objective is to assess the peacebuilding significance of a cooperative Israeli- Palestinian wastewater management initiative between the Arava Institute for Environmental Studies (AIES), an Israeli- based environmental organization, and the Palestinian Wastewater Engineers Group (PWEG), a Palestinian-run organization working in the water and solid waste sectors.
Click here for the Water & Peacebuilding Team's report 
Click here for more information regarding GEP capstone research options.