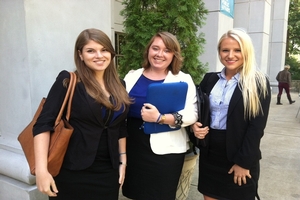 All students interested in joining the Global Scholars Program should apply to American University/School of International Service, adhering to all application deadlines and requirements. In addition to the application, Global Scholar applicants must complete a program application. Visit the Global Scholars Application page to find out more.
The selection process for the program will consist of two rounds. The first round of essays will be due on December 15, 2015. Applicants selected for Round 2 will be notified by February 15, 2016. If you are not selected for Round 2, you will still be considered for admission to American University.

As a junior or senior in high school, students may also want to consider the Community of Scholars program in SIS, a rigorous three-credit college summer program. Visit the Community of Scholars page to find out more.

Current AU/SIS students are not eligible to apply for admission into the Global Scholars Program, as the Program is designed for incoming freshmen.

For more information, please email globalscholars@american.edu.