IC Program Events Spring 2014
PCDF Book Talk: De-Americanizing Soft Power? An Indian Perspective April 3, 1:00 - 3:00 PM, SIS 300

On April 3rd, PCDF will be hosting Professor Daya Thussu to speak about his new book De-Americanizing Soft Power? An Indian Perspective at the School of International Service from 1:00 – 3:00 pm in SIS 300. Focusing on the Indian case, this talk will review the contribution that an old civilization like India can have on the discourse of Soft Power. Taking a historical perspective on India's overseas presence, the talk will examine how the country has made itself attractive in a globalizing marketplace for ideas and images, drawing on its democratic, demographic and diasporic resources.

Daya Thussu is Professor of International Communication and founder Co-Director of India Media Centre at the University of Westminster in London. Author or editor of 16 books, among his recent publications are Communicating India's Soft Power: Buddha to Bollywood (Palgrave, 2013); Media and Terrorism: Global Perspectives (co-edited with Des Freedman, Sage, 2012); Internationalizing Media Studies (Routledge, 2009)and News as Entertainment: The Rise of Global Infotainment (Sage, 2007). He is currently finishing the third edition of International Communication: Continuity and Change, to be published by Bloomsbury Academic. He is the founder and Managing Editor of the Sage journal Global Media and Communication.
Interview Skills Workshop


Saturday, January 18th
9:00am - 5:00pm 
SIS 300

Please join the International Communication Program as distinguished Alumna Nilar Chit Tun brings her experience as a recruiter for prominent NGOs to a workshop aimed at perfecting participants' interview skills.
Alumna Nilar Chit Tun has worked with the UN Food and Agriculture Organization, Chemonics International, AED in conjunction with the Bill and Melinda Gates Foundation, and the World Bank/IFC.

Collaboration and Public Diplomacy
On October 17th at 12:00PM in the Abramson Family Founders Room, Tara D. Sonenshine, current Under Secretary for Public Diplomacy and Public Affairs, will be presenting on Collaboration and Public Diplomacy.
Under Secretary Sonenshine was formerly Executive Vice President of the United States Institute of Peace (USIP). Prior to joining USIP, she was a strategic communications adviser to many international organizations including USIP, the International Crisis Group, Internews, CARE, The American Academy of Diplomacy, and the International Women's Media Foundation.
Ms. Sonenshine served in various capacities at the White House during the Clinton Administration, including Transition Director and Director of Foreign Policy Planning for the National Security Council and Special Assistant to the President and Deputy Director of Communications for the NSC. Tara has also had a distinguished career in communications and government, with high-level experience in broadcast, print, and online media.
Website
Welcome BBQ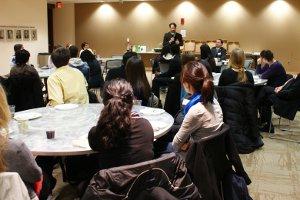 On September 10th, the IC Program and the ICSF will host a Welcome BBQ to share food and conversation among returning students, newly arrived students and faculty members. This annual event is always a great way to kick off the new semester and catch up with friends and faculty.

Public Diplomacy Council Book Launch: The Last Three Feet
The AU School of International Service International Communication Program and the Public Diplomacy Council will be co-hosting an event to promote the book "The Last Three Feet: Case Studies in Public Diplomacy" produced by the Public Diplomacy Council. The book event will feature remarks by editor and PDC Treasurer Bill Kiehl as well as a round-table discussion about the book featuring a group of Council members. The event will explore insights and themes that emerge from the case studies featured in the "The Last Feet" – and to discuss their role in the growing field of public diplomacy training and instruction.
Hot Topics and Trends in International Education 
Given the Global Economy and the transformation of societies, International education involving the mobility of people, knowledge and institutions is increasing at a rapid rate. This mobility has implica-tions for how institutions of higher education are addressing the need of globally mobile students and workforce development. In this forum we will discuss the state of internationalization of higher education globally and in the United States, the rise of Intercultural Leadership and its implications.
RSS
Events Calendar
Todays Events