IC Program Events Spring 2015
Interview Skills Workshop


Saturday, January 17th
9:00am - 12:00pm 
SIS 300

Please join the International Communication Program as distinguished Alumna Nilar Chit Tun brings her experience as a recruiter for prominent NGOs to a workshop aimed at perfecting participants' interview skills.
Alumna Nilar Chit Tun has worked with the UN Food and Agriculture Organization, Chemonics International, AED in conjunction with the Bill and Melinda Gates Foundation, and the World Bank/IFC.

Welcome BBQ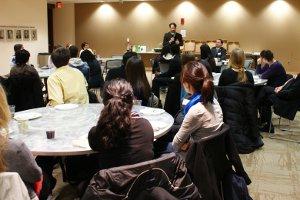 On September 10th, the IC Program and the ICSF will host a Welcome BBQ to share food and conversation among returning students, newly arrived students and faculty members. This annual event is always a great way to kick off the new semester and catch up with friends and faculty.

RSS
Events Calendar
Todays Events
Intercultural Management Institute

IMI provides customized training for effective communication, negotiation and leadership across cultures.