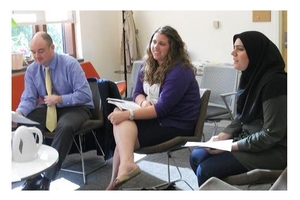 About SIS Practica:
This program is designed to give second-year master's students real world experience in project management and consulting while preparing them for post-graduate careers.
Students work in teams with expert clients including U.S. and international government agencies, non-profit organizations and businesses to conduct policy and program analysis. Students draw on their substantial research, as well as qualitative and quantitative skills, to prepare final oral and written analysis and recommendations.
The practica are led by faculty mentors who hold class sessions weekly. Students also participate in hands-on workshops designed to enhance their project management, client relations, oral presentation, and writing skills. In addition to sharing the findings with their clients, students present their reports at the SIS Practica Symposium each semester.
Spring 2014 Practica:
Cultural Diplomacy

International exchange programs are an essential component of public diplomacy. participants will study major actors and resources in the field as well as a conceptual framework for evaluating the effectiveness of exchanges. of three teams of students will research and report on one of the following topics: 1) international student flows and U.S. and Dutch efforts to recruit international students and provide enrichment activities in their capital cities; ) building a domestic constituency for exchanges; 3) recruiting Millennials to participate in citizen diplomacy programs. Clients include the International Student House in Washington, DC /the City of The Hague, the Alliance for International Educational and Cultural Exchange, and the National Council for International Visitors.
Professor: Dr. Sherry Mueller, distinguished alumna and President Emeritus of the National Council for International Visitors.
Practicum Meet & Greet:
Thursday, September 12th at 5:30pm in the School of International Service, room 235.
Strategic Communication
The Strategic Communications Practicum emphasizes the central role of information intensive activities in an organization's mission and planning. in this Practicum will be assigned to projects with major international or non-governmental organizations that emphasize public policy issues concerning the role of communications in governance, or that apply communication skills to organizational needs in social media, business development, outreach, and communication campaigns. work will result in organizational strategic plans, media and outreach strategies, policy positions, and public relations strategies.
Students that have foreign language capabilities, social media skills, familiarity with information and communication public policy issues, and general international relations skills are especially desirable.


Professor: Eric J. Novotny, Senior Advisor for Democracy and Technology at the U.S. Agency for International Development.

Practicum Meet & Greet: Monday, September 23rd at 5:30pm in the School of International Service, room 235