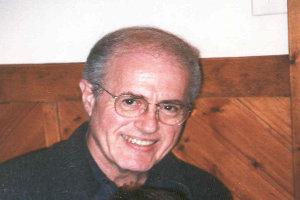 This annual award in the memory of Walter Sherwin is given to a student who has completed his/her first year of study in the IDP Master's program. The two main criteria are: an excellent academic record and a record of effective and active service to outside communities and/or relevant student organizations. The person's "fit" with the ideals for which he stood is also taken into account. The fellowship is for $5,000 to be used toward Spring tuition. The awardee is selected from a pool of outstanding students chosen by IDP professors. The students may not have any other scholarship or fellowship.

Sherwin spent his entire career working to improve the lives of people around the world through international development projects. He provided 27 years of dedicated service in USAID. Ten of those years were spent in West African countries helping to design and manage a wide range of projects such as health clinics, forestry and cereals and livestock development. After his retirement, he served as a consultant on projects in Eastern Europe. He also volunteered for Reading for the Blind and Dyslexic and independently went to Senegal trying to mount a similar project for the many blind people there. Unfortunately, a brain tumor cut his life short before he could realize this project. His strongest characteristics were an abiding idealism, persistence in the face of adversity, and a desire to fight injustice.
This award to honor Sherwin's life and work was started in 2006 by his wife, Kitty Sherwin, his two children, Mark and Jennifer, and his sister, Sue Byrd. 

Awardees

2013 - Asmaa Elsayed, International Development

A free spirit, a seeker, and a learner. Asmaa Elsayed is a Master's candidate in International Development with a focus on Education Development Policy, graduating in December of 2014. She also serves as a Friday Forum Coordinator for the International Development Program Student Association (IDPSA). Asmaa currently works as a Research Assistant for the first Arab woman ambassador to the U.S., Omani Ambassador Hunaina Ahmed Al Mughairy. Before starting at American University, she worked for three years with an international publishing company where she helped translate, edit, and culturally adapt some of the very first developmentally appropriate and research-based early childhood curricula in Arabic. In 2008, she co-founded a non-profit organization in Egypt sponsoring orphan children to finish their basic education. She is in the process of founding her own NGO focusing on education, especially for orphans and street children. Asmaa is multi-lingual; she is fluent in Arabic, English, learning French and Sign Language. She has her bachelors from George Mason University where she graduated with honors in 2010.

2012 - Andrew (AJ) Doty, International Development

Andrew (AJ) Doty is a Master's candidate in International Development with a focus in program evaluation and education, graduating in May of 2013. He currently serves as the student-faculty liaison for the IDPSA. Before starting at American University he worked for a year and a half as an AmeriCorps VISTA doing community-based tenant organizing, and then as a community developer and social worker in the Hunts Point neighborhood of the South Bronx. He has his bachelors from Pitzer College where he graduated with honors in Sociology in 2009.

2011 – Joanna Mantello, International Development

After two years in Israel and the West Bank and one year with Management Systems International, Joanna Mantello joined USAID's Middle East Bureau as a Presidential Management Fellow and Desk Officer for West Bank and Gaza in January 2013. Joanna is the 2011 recipient of the Sherwin Fellowship and graduated from AU's International Development program in May 2012. Joanna was born in Washington, DC and is fluent in French.

2010 – Hu Di, International Development

Hu Di was the Sherwin Award recipient in 2010. Prior to graduate school, Hu Di served as China Country Manager and Associate Director of International Operations at Global Volunteers overseeing international volunteer service programs in China, Vietnam, India, Ghana, Tanzania and the Cook Islands. Currently, she lives in New York and works at the National Committee on U.S.-China Relations, managing education exchange programs including U.S. - China Teachers Exchange Program and the Fulbright - Hays Seminar Abroad.

2009 – Asmeret Ashgedom, International Development

Asmeret Asghedom graduated from American University in 2010. After graduating she received the Presidential Management Fellowship and completed a two-year appointment as an economist at the U.S. Department of Energy. She continues to work at DOE as an international energy market analyst and is the lead analyst on energy issues in Africa at the Energy Information Administration. Before moving to Washington DC for graduate school, Asmeret spent 3-4 years tutoring at inner-city schools in Las Vegas, NV.

2009– Linda Nico, International Development

Linda Nico, a native of Rhode Island, was the Sherwin Award recipient in 2009. She is currently a Senior Program Coordinator at Partners of the Americas, managing a youth workforce development program throughout Latin America.

2008 – José Henríquez, Development Management

José was born in El Salvador and has extensive experience on human development and social justice issues in Central and South America. He currently works in Belgium at the headquarters of Pax Christi International, a global network of peace and human rights organizations. José received the 2008 Walter Sherwin Award and graduated from American University in 2009.

2007 – Rathi Mani, International Development

Rathi Mani-Kandt was the Sherwin Award recipient in 2007. After graduate school, Rathi spent 3.5 years working for Making Cents International as a youth and financial services master trainer and technical specialist. Rathi currently lives in Cambodia with her husband where she is an independent consultant. Much of her current work continues to be related to developing inclusive financial services for the poor, but she is actively involved with a company that uses social marketing to trigger behavior change in a variety of development sectors.

2006 – Claudia Rodríguez-Alas, International Development

Claudia Rodríguez-Alas, a native of El Salvador, was the first recipient of the Walter Sherwin award in 2006. Claudia is currently a consultant with the Human Development Network at the Work Bank where she helps to analyze the performance of social protection programs around the world. She also has worked with non-profit organizations on financial literacy and immigrants' rights. She graduated from the International Development program in 2007.
Skills Institutes

Intensive three-day courses, training students in state-of-the-art international development techniques
Tinker-Walker Fellowships

Through the Irene Tinker-Millidge Walker Fellowship, students can receive financial support to offset the costs of including overseas field experience in their research, internship, or practicum.