Summer 2015

PRESENTATIONS AND OTHER ACTIVITIES

Prof. Claire Brunel presented at the 4th Annual Summer Conference of the Association of Environmental and Resource Economists, which took place in San Diego in early June. Her paper was titled "Green Innovation and Green Manufacturing: Links between Environmental Policies, Innovation, and Production", and it addressed the claim that environmental policies stimulate domestic economies. Prof. Brunel's empirical evidence is based on measures of policy, patent activity, and trade in the renewable energy sector (solar, wind, geothermal, biomass and waste) of 27 OECD countries between 1988 and 2003. The results suggest that an additional policy promoting the development or use of renewable energies is associated with a significant rise in the adoption of existing foreign technologies, but few new inventions at home. Renewable energy policies stimulate domestic economies through manufacturing, but less so through innovation.  

Prof. Miles Kahler gave a presentation in June on "Global Governance and Varieties of Uncertainty in a Globalized World" at a conference on "Globalization and Uncertainty" at Nuffield College, University of Oxford. He was a member of an academic delegation to Israel in August, sponsored by the Academic Exchange initiative and the Yitzhak Rabin Center. The delegation held a week-long, intensive series of meetings with Israeli and Palestinian policymakers and researchers.

Prof. Arturo Porzecanski was quoted in May by Bloomberg News in an article about how Puerto Rico may need the imposition of a financial control board akin to those enacted for New York City in the 1970s and the District of Columbia in the 1990s. In June, he was quoted twice by The New York Times in articles related to the financial crisis in Greece: first in a piece comparing the prospects for Greece in light of Argentina's experience, and then in an article on the implications of a potential Greek exit from the Eurozone. Porzecanski was also interviewed in the print and TV editions of Infobae, a leading Argentine news outlet, discussing the implications of a recent ruling by U.S. federal judge Thomas Griesa granting partial summary judgment to many bondholders who years ago had filed suit in the U.S. courts against the government of Argentina, given its failure to pay on bonds issued in the 1990s.

In July, Porzecanski was quoted by The Wall Street Journal in a piece on how the application of federally mandated minimum wages to Puerto Rico had harmed job creation on that island. He was also cited by The New Yorker in a major article detailing events surrounding the violent death of Argentine prosecutor Alberto Nisman earlier in the year. In early August, he was interviewed by CNN on the impending default by Puerto Rico, which took place on August 3rd following the non-payment on a bond issued by its Public Finance Corporation. Porzecanski was quoted by The Wall Street Journal in a piece on the implications for the financial markets of the August primary elections in Argentina

Prof. Jerald Schiff presented a paper titled "Avoiding Japanization: What Role for Fiscal Policy?" at a 2015 East-West Center/Korea Development Institute Conference on "Japanization: Causes and Remedies," which took place in mid-August in Hawaii. His paper alongside the others is to be published later by Edward Elgar in a conference volume. "Japanization" is often used by economists to describe long-term stagnation and deflation, and its symptoms include high unemployment, weak economic activity, interest rates near zero, quantitative easing by governments, and population aging. The conference provided a forum for research presentations on the causes of Japan's "lost decades" and on the lessons that can be learned from that experience. During the summer months, Prof. Schiff also spent two weeks in Bangkok, Thailand, teaching a course on fiscal policy for government officials from Myanmar, Laos and Cambodia. The course was hosted by the IMF-Singapore Training Institute. 

Prof. Krista Tuomi acted as a consultant to the US-Pakistan Women's Council and its goal to promote entrepreneurship among women in Pakistan, as part of a $500,000 grant from the U.S. Embassy in Pakistan to American University for the purpose of scaling up women's businesses through a joint certificate training program to be conducted with Lahore University of Management Sciences.
PUBLICATIONS 
Prof. Daniel Bernhofen had two articles become available for circulation in pre-publication format. The first was "Estimating the Effects of the Container Revolution on World Trade," joint with Zouheir El-Sahli and Richard Kneller, forthcoming in the Journal of International Economics. Many historical accounts have asserted that containerization triggered complementary technological and organizational changes that revolutionized global freight transport. Bernhofen and colleagues are the first to suggest an identification strategy for estimating the effects of the container revolution on world trade. Applying container variables on a large panel of product-level trade flows for the period 1962-1990, their estimates suggest economically large concurrent and cumulative effects of containerization, lending support for the view of containerization being a driver of 20th century economic globalization. 
The second article was "The Impact of Trade Preferences on Multilateral Tariff Cuts: Evidence from Japan," joint with Tobias Ketterer and Chris Milner, forthcoming in the Journal of the Japanese and International Economies. Opposing theoretical predictions about the effects of trade preferences on multilateral tariff cuts point to the need for empirical analysis to determine whether preferential trade agreements promote or hinder multilateral trade liberalization. This article examined the impact of Japan's trade preferences on its multilateral tariff reductions. Using detailed product level data, Bernhofen and colleagues found that Japan's Generalized System of Preferences (GSP) acted as a stumbling block for the country's external tariff liberalization during the Uruguay Round of multilateral trade negotiations.
Prof. Claire Brunel received confirmation that two of her articles will be published in 2016. The first is "Measuring Environmental Regulatory Stringency," co-authored with Arik Levinson, and it will appear in the Review of Environmental Economics and Policy. Researchers have long been interested in whether environmental regulations discourage investment, reduce labor demand, or alter patterns of international trade. However, estimating those consequences of regulations requires devising a means of measuring their stringency empirically, so Brunel and colleague describe the long history of attempts to measure environmental regulatory stringency, assess their relative success, and propose a new measure of stringency to be based on emissions data and constructed separately for different pollutants.

The second is "Trade in Environmental Goods: A Review of the WTO Appellate Body's Ruling in US-Countervailing Measures (China)," with Rachel Brewster and Anna Maria Mayda, which is forthcoming in World Trade Review. This paper reviews the WTO's Appellate Body ruling on a case against the US application of countervailing duties on certain products from China in response to alleged Chinese subsidies. Focusing on environmental goods, the paper discusses the motivations for the subsidies and countervailing duties, both in terms of market distortions and strategic trade objectives, evaluating the effectiveness of each instrument in addressing these concerns. The authors' assessment is that the countervailing duties are likely to be welfare-reducing because they have the standard distortionary effects of tariffs and could go against environmental goals.
Prof. Miles Kahler in July contributed to the debate over economic sanctions and the nuclear agreement with Iran with a blog entry in Lawfare, which is devoted to the "nebulous zone in which actions taken or contemplated to protect the nation interact with the nation's laws and legal institutions." Kahler's conclusion was that "At this point in time, given the current Iranian leadership, the state of Iranian public opinion, and Iranian economic conditions, relying on unilateral economic leverage to obtain a better deal is an illusion. More likely it would drive Iran further in the direction of North Korea –an unrestrained nuclear program and an economically isolated, unreformed regime."
Prof. Arturo Porzecanski in May released a lengthy paper titled "The Origins of Argentina's Litigation and Arbitration Saga, 2002-2014," which appeared as part of the SIS Working Papers Series. The paper details how a major deviation from best practices, which codified how economic policy adjustments are to be made in a way that minimizes damage to the investment climate, preserves access to the international capital markets, and promotes rapid and sustainable economic growth, lies at the root of Argentina's travails in courts and arbitral tribunals around the globe. In June, he published an oped titled "Puerto Rico Needs Reform, Not Bankruptcy," in Roll Call, which reports news of legislative and political maneuverings on Capitol Hill, arguing that the troubled island must change its business model and consider structural reforms to government services — everything from education to public utilities — in order to overcome its difficulties.  
Prof. Jerald Schiff marked the publication of a book for which he was a co-editor and contributor, "The Future of Asian Finance" which came out in August courtesy of the International Monetary Fund. The book's authors took stock of how financial systems in Asia's advanced and emerging market economies compare with the rest of the world and how reforms to develop equity and bond markets have progressed;how Asian financial systems will likely evolve in complexity and interconnectedness, with implications for the regional financial centers of Hong Kong and Singapore;and how the region's demographic dividend can be harnessed to finance infrastructure, the state of economic and financial integration in ASEAN, the role of capital flows, and how changes to global regulatory regimes are affecting Asian financial systems. There is an excerpt of the book here.
Prof. Krista Tuomi co-authored an article in the June issue of Venture Capital, an international journal of entrepreneurial finance. It is titled "Early Stage Business Tax Credits: Case Study of two US States," and it looked at two US tax credit programs for investment in early stage business (in Maryland and Wisconsin), and estimated their net economic impact using the regional input–output modeling system. 
Prof. Andrew Wolfe was a consultant to the Commonwealth of Puerto Rico and co-authored, together with former IMF colleagues Anne Krueger and Ranjit Teja, a report titled "Puerto Rico –A Way Forward." The report, first published in June and then updated in July, analyzed the full extent of the Commonwealth's fiscal condition including revenues, expenditures, deficits, and current and future obligations. It also discussed certain recommendations for a five-year fiscal adjustment plan. Among its conclusions was that even a major fiscal effort would leave residual financing gaps in coming years, which may have to be bridged by debt restructuring (in the form of a voluntary exchange of existing bonds for new ones with a longer/lower debt service profile).
Spring 2015

Foley with SIS Dean Jim Goldgeier

AWARDS

Spring 2015 IER graduate Peter Foley received the Kimberly Miller Award for Outstanding Commitment to European Studies and Community Spirit at the School of International Service Faculty, Student, and Staff Awards. Congratulations, Pete!

PRESENTATIONS AND OTHER ACTIVITIES

Scholars, political scientists, and economists from around the world attended the "New Thinking and the New G-20" conference on April 15 at the Capitol Hilton Hotel in Washington, DC. Launched in 2013 by Distinguished Professor Miles Kahler of the School of International Service (SIS) and Barry Eichengreen of the University of California, the project works to bring new ideas and the perspective of emerging economies to global discussions of policy change and institutional reform. Additionally, the project aims to link researchers in the emerging economies more effectively to research networks in the industrialized world and to global policy discussions. The project is supported by the Centre for International Governance Innovation (CIGI) and the Institute for New Economic Thinking (INET). 
In early 2014, two interdisciplinary teams composed of economists and political scientists from both industrialized and emerging economies were identified and tasked with producing individual papers and collective policy recommendations. One team, led by SIS Professor Randall Henning, devoted its research to macroeconomic and financial cooperation. According to Professor Henning, who organized the conference, this event also provided a foundation for expanding the project's research network. "The conference was the launching point of building a broader network to influence global economic governance and to inject ideas and recommendations into upcoming G-20 meetings," said Henning. 
Prof. Arturo Porzecanski was interviewed in Portuguese as part of a documentary sponsored by Brazil's chamber of commerce Fecomercio discussing the need to reform that country's bloated public sector, which was released in February. His critique of the Central Bank of Brazil's failure to keep inflation under control was published in the country's leading daily, Folha de São Paulo, in March. Subsequently, in April, Prof. Porzecanski was featured in videos discussing "Argentina's Fight with America's Courts" which were published by the multi-platform media company Fusion. In May, he was a panel moderator at an EMTA event held in New York City headlined "Argentina Update," which served as a forum to discuss the country's economic and political outlook and also its legal entanglements in the U.S. courts.
Prof. Porzecanski also served as a discussant on a panel, Will Brazil Keep its Investment Grade Status? at the Wilson Center's Brazil Institute in April. The Institute convened a panel of experts to assess Brazil's economic outlook, in the wake of the newly appointed Finance Minister Joaquim Levy's attempt to secure congressional approval of unpopular austerity measures, and his development of initiatives to shorten the ongoing recession and restore confidence in the government -- a delicate situation which has caused speculation about whether the country could lose its coveted investment grade. Prof. Porzecanski served alongside the Secretary for Economic Affairs of the Ministry of Finance; a senior rating-agency analyst from Standard & Poor's; and a scholar from the Peterson Institute for International Economics.
In April, Prof. Krista Tuomi presented at the Angel Capital Association Annual Summit in San Diego on "Best Practice in Public Policy on Financing Start-Ups."

PUBLICATIONS
Prof. Daniel Bernhofen presented a paper titled "Assessing Market (Dis)integration in Early Modern China and Europe," at both the Chinese Economists Society North America Conference which took place at the University of Michigan (Ann Arbor, MI) in mid-March, and also at the Public Choice Seminar at George Mason University (Fairfax, VA) in mid-April. His paper contributes to the debate on China's level of market integration on the eve of Western industrialization.

Prof. Arturo Porzecanski published an essay titled "Brazil's Place in the Global Economy" as a chapter in the book Brazil on the Global Stage: Power, Ideas, and the Liberal International Order, edited by Matthew Taylor and Oliver Stuenkel, released by Palgrave Macmillan in April. He also wrote an article titled "The Origins of Argentina's Litigation and Arbitration Saga, 2002-2014," which was released as part of the SIS Working Papers Series in May and was disseminated via the Social Science Research Network (SSRN). Earlier in the semester, in February Prof. Porzecanski presented a written submission on H.R. 870, the "Puerto Rico Chapter 9 Uniformity Act of 2015," to the chairmen and ranking members of the House Committee on the Judiciary and the House Subcommittee on Regulatory Reform, Commercial and Antitrust Law. In March, he published an oped in The Financial Times titled "Argentina is in Checkmate and Must Negotiate a Way Out." In April, his oped on "Why Chapter 9 for Puerto Rico is a Bad Idea" appeared in The Hill. 
Prof. Jerry Schiff co-edited -- and contributed to -- the International Monetary Fund's new book, "Can Abenomics Succeed? Overcoming the Legacy of the Lost Decades?" with Dennis Botman and Stephan Danninger, published in March.

Prof. Krista Tuomi co-authored a paper, "Early Stage Business Tax Credits: Case Study of two US States," which is forthcoming in Venture Capital: An International Journal of Entrepreneurial Finance.

Fall 2014

Prof. Stephen Silvia accepting the 2014 DAAD Prize in German and European studies at the American Institute for Contemporary German Studies (AICGS) Award Dinner.

AWARDS

In December, Prof. Stephen Silvia received the 2014 German Academic Exchange Service Prize for Distinguished Scholarship in German and European Studies for his career contributions to the field of Economics/Economic History.


PUBLICATIONS

Prof. Miles Kahler authored a chapter, "Who is Liberal Now? Rising Powers and Global Norms," for inclusion in the forthcoming Why Govern? Rethinking Demand, Purpose, and Progress in Global Governance, edited by Prof. Amitav Acharya of SIS.
Prof. Arturo Porzecanski was published twice by the Financial Times in the Fall: in September regarding an initiative to involve the United Nations in the resolution of sovereign debt problems, and in November about expectations surrounding the G20 Summit in Australia, "The G20 must keep it focused". An oped written by him on "Puerto Rico Needs a Financial Control Board" was published in the Washington DC newspaper The Hill in October. He was interviewed three times during October-November on CCTV about developments and prospects in Brazil: on its economic challenges, post-election outlook, and election-related economic issues. In October, Uruguay's El Pais newspaper featured Prof. Porzecanski in a lengthy interview about the track record of economic policy in that country, and likewise Brazil's leading daily Folha de São Paulo interviewed him concerning Brazil's worsening reputation in international markets. In September, Argentina's El Cronista newspaper featured an interview with him on that country's debt crisis, and so did Uruguay's El Observador, which ran an interview on Prof. Porzecanski's thoughts on Uruguay's relationship with Argentina.
Prof. Stephen Silvia co-authored a chapter this Fall, "Gewerkschaften und Arbeitgeberverbände," [Unions and Employers Associations]," in a book, Handbuch Gewerkschaften in Deutschland (Wolfgang Schroeder, ed.).
Prof. Manuel Suárez-Mier published a weekly column on current economic events in the "Money" section of Mexico's leading newspaper Excelsior and also several commentaries as a scholar affiliated with CATO's Spanish-language institute.

Prof. Krista Tuomi produced a working paper this year, "Early Stage Business Tax Credits: Benefit or Cost for US States?"  
PRESENTATIONS & OTHER ACTIVITIES
Prof. Miles Kahler spoke on two panels at the American Political Science Association Annual Meeting in August 2014. He also visited Duke University in October, first serving as a panel participant on Strategy and Development at the Sarah Bermeo Book Workshop, and, primarily, to give a talk, "The Study of World Politics in a Post-Paradigm, Post-Post-Cold War World," at the Duke University Faculty & Graduate Student International Relations Symposium. In October, he presented a paper, "Middle Powers, Network Power, and Soft Power," at a conference, "South Korea as a Middle Power," at the Center for Strategic and International Studies (CSIS). Later in October, he presented a paper, "Rising Powers and Alternative Modes of Global Governance," and was a keynote speaker on "The State of the Nation-State, 1914-2014," at the Frank M. Woods Lectures at the University of Toronto Munk School of Global Affairs' Trudeau Centre for Peace, Conflict and Justice. In November, Kahler organized and chaired a Council on Foreign Relations (CFR) roundtable on Rising Powers and World Politics. He also led a panel discussion, "Regional Cooperation" at the Inter-American Development Bank's December event, "Regional Public Goods and Sustainable Development."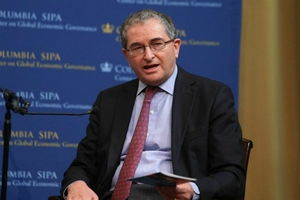 Dr. Arturo Porzecanski speaking at a Columbia University SIPA panel event, "Are BRICs a New Platform for Global Governance?" in November 2014.
Prof. Arturo Porzecanski gave a talk in October 2014 at Johns Hopkins SAIS, "Argentina and the Debt Default Saga." In November, he was a discussant in two panels, one on "After Argentina: Government Debt Crises, Global Finance and the Law," at Georgetown University Law School, and another on "Are BRICS a New Platform for Global Economic Governance?" at Columbia University's SIPA, in New York. In December, Prof. Porzecanski spoke at a meeting of the National Economists Club in Washington, DC about the ongoing Argentine debt crisis, in a talk titled "Argentina's Sovereign Debt Saga: Facts and Implications." He was also a discussant on a panel in New York about "Puerto Rico: Scenarios for 2015" sponsored by EMTA, the Trade Association for the Emerging Markets. 
Prof. Stephen Silvia gave an October 2014 presentation titled "Internationalization of Industrial Relations: The Example of German Car Manufacturers in the USA," at an industrial relations conference in Bologna, Italy. That same month, he presented on German economic unity at a Catholic University of America conference, "Celebrating the 25th Anniversary of the Fall of the Berlin Wall." In November, Prof. Silvia spoke on, "Germany Since 1989: Economic and Social Developments," at the US Department of State's Foreign Service Institute.
Prof. Krista Tuomi gave a presentation in November, "Tax Incentives: What Works?," at the European Trade Association for Business Angels' Annual Conference in Helsinki, Finland.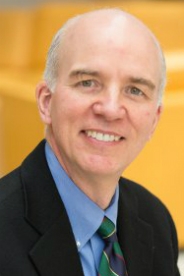 Prof. Stephen Silvia Takes on New Responsibilities

IER is pleased to announce the promotion of faculty member Stephen Silvia from Associate Professor to Professor within the School of International Service. Dr. Silvia has also stepped down as the inaugural director of the Online Master of Arts in International Relations program after two years of service, and will be taking on a newly elected position as Chair of the university's Committee on Faculty Actions for AY 2014/15.
This summer, Prof. Silvia gave a June presentation, "Labor Markets in Europe," at the US State Department's Foreign Service Institute. In July, he spoke on "Employment Creation in the United States of America," at a labor symposium held at Taiwan's Ministry of Labor.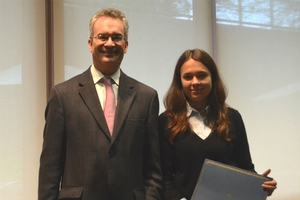 Alena Sakhonchik with SIS Dean Jim Goldgeier.
Awards
Two IER graduate students won sought-after awards at the School of International Service Annual Awards Ceremony:
Alex Choy won the Alan Taylor Memorial Award for Excellence in Outstanding Academic Performance and Service to the University.
Alena Sakhonchik won the Charles H. Heimsath Memorial Award for Excellence in Style and Substance of Written Work in International Relations at the Undergraduate Level.
Congratulations to our students!!!!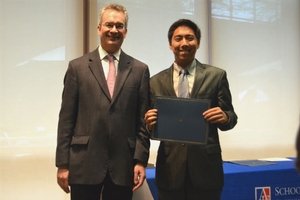 Alex Choy with SIS Dean Jim Goldgeier after receiving his award.

Publications
Prof. Daniel Bernhofen published an article titled "Preferences, rent destruction and multilateral liberalization: The building block effect of CUSFTA" with Tobias Ketterer and Chris Milner in Journal of International Economics.
Prof. Gregory Fuller authored a chapter titled "Europe and the Global Economic Crisis," for the fifth edition of Europe Today: A Twenty-First Century Introduction, due out in June 2014. He also authored sections on "Structural Adjustment Programs" and "Sovereign Debt" in World Democracy: From Ancient Times to the People's Revolutions of the 21st Century, due out in 2014.
Prof. Arturo Porzecanski published a chapter titled "Borrowing and debt: how do sovereigns get into trouble?" in the book Sovereign Debt Management edited by Lee C. Buchheit and Rosa M. Lastra, published by Oxford University Press in January 2014. He also published an oped article titled "Time to get serious at the IDB" in The Financial Times on January 13, 2014. In addition, on February 3, 2014, he was interviewed exclusively in El País (Uruguay) newspaper on international and regional economic issues, and also in Brazil's leading financial daily, Valor Econômico on Mexico's improved creditworthiness relative to Brazil's, on February 6, 2014. Porzecanski also published two op-eds in the Brazilian press critical of Brazilian foreign economic diplomacy, the first in Valor Econômico on March 20, 2014, and the second in Folha de São Paulo on April 12, 2014. On May 29, 2014, his views on the economic and banking situation in Puerto Rico were published in the Capitol Hill newspaper The Hill. On June 12, 2014, the Financial Times blog beyondbrics featured his views on Argentina's debt restructuring.
The February 18, 2014 edition of The New York Times published Prof. Stephen Silvia's op-ed, "Prove to Workers That their Lives will be Better," concerning unionization in the United States. He also authored two blog posts in February, on, "Five key questions -- and answers -- about the threat to Volkswagen investment in the South," for the Washington Post's The Monkey Cage, and the other, "Transplant Rejection: A UAW-VW Post Mortem," for the American Institute for Contemporary German Studies (AICGS).

Prof. Manuel Suárez-Mier published a weekly column on current economic events in the "Money" section of Mexico's leading newspaper Excelsior and also several commentaries as a scholar affiliated with CATO's Spanish-language institute.
Presentations & Other Activities
Prof. Daniel Bernhofen presented a paper at the American Economic Association Meetings in Philadelphia, PA, on January 3-5, 2014. He also organized a session at that conference titled "Assessing the welfare impacts of economic integration: evidence from the 19th and 20th centuries". He also gave a presentation at Syracuse University on February 25, 2014, titled "Estimating the effects of the container revolution on world trade", with Drs. Zouheir El-Sahli and Richard Kneller, as part of the Maxwell School's Trade, Development, and Political Economy Workshop series.
Prof. Randall Henning presented a paper, "The ECB as a Strategic Actor: The Brave New World of Central Banking in the Euro Crisis," at the annual meeting of the Council of European Studies in Washington in March 2014. Prof. Henning also spoke at the Brookings Institution conference on Europe's Economic Future on June 6, 2014.
Prof. Arturo Porzecanski spoke at a program on "Argentina at the Crossroads" sponsored by the Hudson Institute, which took place in Washington DC on January 15, 2014. He was also a panelist at a seminar on "Sovereign Debt Restructuring: A Better Way Forward?" hosted by EMTA, which was held in Washington DC on January 16, 2014. Furthermore, he spoke on "Economic Trends in the Southern Cone (of South America)" at the U.S. State Department's Foreign Service Institute, in Arlington VA on February 4, 2014. He was also a panelist at an American University Kay Spiritual Life Center Lounge discussion on "New Rules for the International Financial Order"which took place on February 19, 2014. Moreover, he was a panelist at an event on "The Future of Argentina: Through the Looking Glass" sponsored by EMTA, which took place in New York City on February 28, 2014. He was also the moderator for a discussion of Argentina's economic and political outlook, co-sponsored by the Brookings Institution and American University, which was held in Washington DC on March 24, 2014. Furthermore, he spoke on "The Economic and Political Outlook in Argentina" at the U.S. Defense Intelligence Agency, in Washington DC on March 26, 2014. Porzecanski also chaired a discussion on "Argentina: Next Steps" as part of BBVA Bank's 4th Latin American Local Markets & Issuer Conference, which took place May 8, 2014, at the Pierre Hotel in New York. He also participated in a meeting of The Good Judgment Project, sponsored by the Intelligence Advanced Research Projects Activity, which took place at American University on May 15, 2014.

Prof. Stephen Silvia presented a paper, "German Trade Unions Wrestle with Reform: The Strategies of IG Metall, IG BCE and ver.di" a the Council for European Studies' 21st International Conference of Europeanists in Washington, DC in March 2014. On April 9, 2014, Dr. Silvia gave a talk, "The Euro and the European Welfare State," at an event concerning "The Sustainability of European Welfare Systems following the Debt Crisis," at The George Washington University in April 2014. He also gave a talk, "European Labor Markets and Social Policy," at the US Department of State's Foreign Service Institute in February.
Prof. Manuel Suárez-Mier took over as the new Director of American University's Center for North American Studies as of January 1, 2014, succeeding Founding Director Prof. Robert Pastor, who retired at the end of 2013 and passed away on January 8, 2014. He was also interviewed in January on National Public Radio.
Prof. Krista Tuomi led a panel discussion focused on "Tax Policy: What Works," at the Angel Capital Association Annual Conference in Washington, DC, in April 2014.