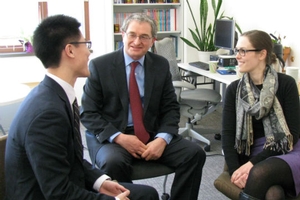 Graduate Advisor Kristin Richards, right, speaks with student Patrick Wang during a drop-in advising session in the IER suite as Program Director Arturo Porzecanski looks on.
IER is pleased to welcome a new academic advisor, Ms. Kristin Richards. Kristin came to SIS from New York University, where she worked in undergraduate academic advising and transition programs in their College of Arts and Science. She also completed an MA in Higher Education Administration and Student Affairs at NYU, and has a B.A. from the University of North Carolina at Chapel Hill. Her other experiences in higher education include career services, religious and spiritual services, and non-traditional adult programs. Kristin is excited to be in Washington and working with graduate students in SIS.
Kristin is available to assist students with questions and concerns about course registration, program requirements, grades, and capstone projects via e-mail, phone, or in-person appointment. She may be contacted at krichard@american.edu, or through an appointment with Graduate Advising at (202) 885-1690. She also periodically holds drop-in advising hours in the IER Program Suite.