SESSION
Build a Global Network One Fellow at a Time: First Hand Perspectives from the Field

Presenter(s): Abby Flottemesch, Chief Development and Engagement Officer, and Panel of Atlas Fellows
Description: Based on the established Atlas Corps model, this session will present effective practices in building a global network of nonprofit leaders. This panel will cover a) effective recruitment tools; b) tips for in-country orientation; c) communication tips for a global audience; d) e-engagement strategies; and e) alumni activities. At the end of the session, attendees will leave with specific activities that can be implemented to create, support, and grow a global network of individuals from the first moment of contact to long-term engagement.
Level: Intermediate

Delivery: Panel Discussion
Track:
International Education & Exchanges
Abby Flottemesch
Chief Development & Engagement Officer
Abby brings more than 10 years of experience in development, communications, and youth leadership development, which includes being a Class 2 Atlas Corps Fellow in Colombia. Abby also worked as a Development Strategist for the Inter-American Culture and Development Foundation (Washington, DC), Fundacion Escuela Nueva (Bogota, Colombia), and The Campus Kitchens Project (national). Abby is the DC Community Connect for the One Percent Foundation - a a group of young adults who pool their funds and time to strengthen their communities, while at the same time increasing their understanding of and participation in philanthropy. Abby served as an AmeriCorps VISTA in Puerto Rico and organized community development efforts throughout the northern part of the island. Abby graduated with a Bachelors of Arts degree in Communications and Spanish with a minor in Marketing from the University of Minnesota Duluth and completed the Fundraising for Small Nonprofits course offered by The Center on Philanthropy at Indiana University.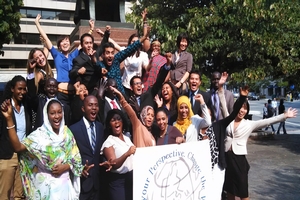 ATLAS CORPS FELLOWS