BRINGING TOGETHER INTERCULTURAL PROFESSIONALS FOR OVER 10 YEARS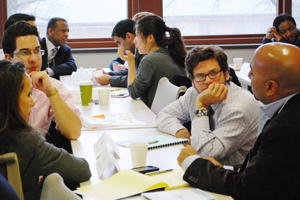 Located in the nation's capital, the Annual IMI Conference on Intercultural Relations is an accessible, affordable, professional development opportunity for those in the field of intercultural relations, cross-cultural & diversity training and education. Since the Annual Conference launch in 2000, IMI has worked to bring together a niche audience of intercultural relations professionals from various sectors to share their knowledge and best practices with colleagues and like-minded individuals in the field. Combined with our focus on experiential learning, participants leave with a toolkit of resources to bring back and apply to their own work. The IMI conference combines a focus on dialogue and learning with networking opportunities in an open, community atmosphere.
Invest in yourself, attend the conference and experience the IMI advantage!
ABOUT IMI
"The Intercultural Management Institute (IMI) at American University provides customized training for effective communication, negotiation and leadership across cultures. IMI offers workshops, academic courses and also conducts research on a wide range of intercultural topics."
 
|A Brief History|

The Intercultural Management Institute (IMI) has more than 50 years of experience in the field of intercultural management and cross-cultural communication. In 1990, IMI moved from the office of the Provost of American University to the School of International Service. Before that time, IMI was called the Business Council for International Understanding (BCIU) Institute. Building upon the prestigious foundations of the BCIU Institute, IMI continues its predecessor's esteemed work in intercultural communication, pre-departure orientation, repatriation training, and area briefing. Its presence within the university is a clear demonstration of a commitment to intercultural understanding and international service that extends back more than forty years. 
For more information on IMI's history, visit the History of IMI web page.
What people said about the 2011 Conference:

"This was my 1st IMI conference, but it won't be the last. Well done! I thoroughly enjoyed it, learned much and appreciate the intimacy of a smaller conference."
"I must mention how wonderful I thought this conference was. The diversity in content, organization, consideration, and character of all those involved made the couple of days and amazing experience. Thank you to IMI and all the presenters!" -Ben Sommers, EDF Scholar
"I liked all the sessions. I like the variety=it's key. Some practical, some hands on, some research-based." 
"Although I'm now two months shy of receiving my master's degree here at AU, today marked my first ever interaction with the passionate and innovative people of the Intercultural Management Institute. The sessions I attended throughout the day shared a commonality beyond their intercultural theme; the presenters challenged and transformed many popular ideas by introducing new approaches in this arena." -Teresa Bellono, EDF Scholar
"Today's keynote speaker was Ambassador Akbar Ahmed, a distinguished man of many talents and sharp wit. His presence at the conference was a real treat. Dr. Ahmed incorporated poetry, history, politics, the audience and humor into his presentation." -Melissa Gouge

"Lunch with Lara Logan was a second high. Lara's feisty honesty and apolitical rhetoric was extremely refreshing in a town such as DC that tends to dance around the issues. Lara's obvious passion for journalism inflamed my deepest desires to get back to the field as soon as possible." -Pamala
"We may sometimes find it hard to wrap our minds around numbers, but we all communicate through the universal medium of stories. Thank you for a great Day 1." -Kwadwo Poku

Conference Attendees

Who attends the IMI Conference?
Government and Military Employees
Corporate, Nonprofit, and Government HR Representatives
Study Abroad Administrators
Cross-Cultural/Intercultural Training Professionals

Independent Intercultural Training Consultants
Advanced Students (Masters/PhD) in the field of Intercultural Relations

Academics and Researchers in the field of Intercultural Relations
Higher Ed Administrators responsible for internationalizing their campus
Those whose jobs require intercultural competence