Request for Proposals
Join our Talented Group of Industry Professionals and Prestigious Presenters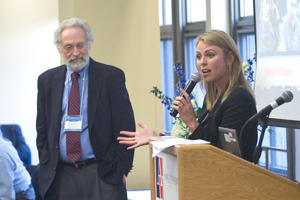 The RFP submission cycle for the 14th Annual IMI Conference is currently closed.


|ABOUT|
The Intercultural Management Institute is seeking session presenters for our 14th Annual Conference on Intercultural Relations on March 14-15, 2013. We are looking for conference sessions that will offer varied, interactive experiences as well as skills development for individuals concerned with advancing intercultural relations. A forum for business, education and training professionals this conference provides direct networking opportunities with decision makers from a wide range of organizations, including: international business, academia, government, military, international education, training, and international human resources.  

|WHAT|
The content of the session should fall under one of the following conference tracks:
•  Experiential Learning (games and simulations)
•  International Education & Exchange
•  Negotiation
• Mediation
•  Relocation  
•  Training of Trainers
•  Business Practices
•  Healthcare
•  HR
• Cultural Diplomacy & Cultural Media

*IMI highly recommends interactive workshops.


Within these tracks, themes of particular interest include:
•  The Culture of Generation Y
•  Third Culture Kids
•  The Culture of Green – Sustainability Across Culture
•  Teaching Cross-Cultural Communication Through Visual Arts   
•  Intergenerational Cultures in the Workplace
•  Integration and Immigration
•  Recession Proofing – Marketing Yourself & Your Program
Previous sessions have included: The Use of Film in Cross-Cultural Training; Contrast Culture Simulation – The Khan Exercise; Medical Tourism: How Medical Tourism Meets Rising Cultural Challenges; Ideal Myths and Real Consequences: Real World Implication of Cultural Perceptions; Through the Prism of Culture: Interest Based Negotiations and the U.S. Air Force; Diversity Dynamics from a Systems Approach; How Gradations of Time Zones Impacts Performance in Global Teams.

|WHO|

Conference attendees are a diverse group of professional practitioners, academics, and graduate students dedicated to advancing intercultural relations. With more than 150 attendees expected and an "ala carte" program menu from which to choose one's learning track, presenters should plan on about 30 people per session (in the past numbers have ranged from 7-50).  

|WHY|

As a presenter, you have the opportunity to enjoy multiple benefits by participating in this great event.  
•  You get to participate too! All presenters will receive complimentary conference registration for both days, including concurrent and plenary sessions, keynote luncheons, and networking reception.
•  Great publicity; you will be featured in the conference program as well as on the IMI conference website.  
• Sell your book at our Conference Bookstore and display your materials on our Conference Reference Table.

•  Professional development and resource acquisition! Expand your knowledge and gain insight from best practices presented by other professionals in the field.

|WHEN|
Thursday and Friday, March 14-15, 2013
Sessions will run from 60-90 minutes in length, and will be scheduled based on your availability as described in the Request for Proposals Application.

|WHERE|
American University Campus
School of International Service (SIS)

4400 Massachusetts Avenue NW
Washington, D.C. 20016
|HOW|
If you are interested in presenting to this dynamic group, please complete the online application and submit all requested materials to mmherman@american.edu by November 21, 2012.

|QUESTIONS|
Please contact Mary Margaret Herman at 202.885.6434, mmherman@american.edu
Online Application
Online Application for the 14th Annual IMI Conference on Intercultural Relations.

NEW TO THE IMI CONFERENCE?
There are many advantages to presenting at the 14th Annual IMI Conference!
Gain recognition with your individual presenter web-page!
Display your materials on the Conference Reference Table!
Sell your book at the Conference bookstore!