Dr. Stefan Eisen Jr.
2013 Conference Presenter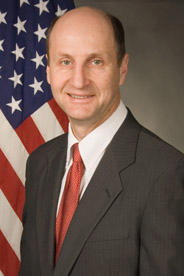 DR. STEFAN EISEN JR.
Founding Director, Air Force (AF) Negotiation Center of Excellence, Maxwell Air Force Base (AFB)

 Dr. Eisen is the founding Director of the AF Negotiation Center of Excellence, Maxwell AFB, AL. He is the past Air War College Dean of Academics and retired from the Air Force in 2006 after 30 years of active duty service.

A five-time commander, he led the 737th Training Group (Air Force Basic Military Training), Lackland AFB, TX., the Air Force Reserve Officer Training Corps HQ at Maxwell AFB, AL, the 37th Flying Training Squadron, Columbus AFB, MS., and the 3830th Student Squadron, Squadron Officer School, Maxwell AFB, AL. He was also Commander, Air and Space Basic Course School, Maxwell, AFB, AL
Throughout his military and civilian careers, Dr. Eisen has a proven record for enhancing the quality of Air Force training and education programs. He served as the first commander for the Air and Space Basic Course School, creating this new level of Air Force Professional Military Education. He also inaugurated a one-year AFROTC program to help the AF meet critical production needs. An Air Force Instructor Pilot (IP) and Flight Examiner (FE) for the 80th Flying Training Wing, Sheppard AFB, TX, Dr. Eisen was an initial cadre IP and FE that created the Euro-NATO Joint Jet Pilot Training program. He also served as a Command IP / FE for HQ Air Training Command, responsible for the quality of advanced flight instruction in the Air Force's Undergraduate Flying Training Program. He is a command pilot with more than 3,300 IP and FE hours in the T-37 and T-38 across six flying assignments teaching basic and advanced flight skills to students from over 23 countries.

 Dr. Eisen earned a BS (Air Force Academy) , a MS in Systems Management (St. Mary's University, San Antonio, TX,) a MA in Strategic Security Studies (Naval War College), and a Doctorate in Public Administration (University of Alabama). He graduated first from his Squadron Officer School and Naval War College classes. He is also a distinguished graduate from the Air Command and Staff College.

 Dr Eisen teaches, researches and writes on a wide variety of topics concerning negotiations, including the Cooperative Negotiating Strategy (CNS), Trust, Information, Power and Options (TIPO) model, cross-cultural negotiating styles, conflict management, as well as strategic leadership and change management. His audiences include international and DOD professionals, civilian business and civic leaders as well as undergraduate students. In 2011, Dr Eisen earned the AF General Counsel's Alternative Dispute Resolution Award for his teaching and program excellence as well as an Air Education and Training Command Inspector General "Professional Performer" recognition.

 Dr Eisen is the past Chair of the Board of Visitors for the College of Continuing Studies at the University of Alabama. The Governor of Alabama also appointed him to serve on the Alabama Developmental Disabilities Council. Finally, Dr Eisen serves on the Board of the Alabama Disabilities Advocacy Program. Dr. Eisen is also an active leader and pitcher in Montgomery's Miracle League, a baseball field designed to giving everyone, regardless of ability or special needs, the chance to "play ball".


Session
Mastering the Art of Negotiating in the Military Environment
Presenter(s): Dr. Stefan Eisen Jr., Col (ret) and US Air Force Director, AF Negotiation Center of Excellence; Ken Lechter, recently retired (12/31/ 2011) Acting Assistant Deputy General Counsel, Dispute Resolution Division of the Air Force General Counsel's Office; and Dr. Gary Weaver, Executive Director and Professor, Intercultural Management Institute, School of International Service, American University
Level:
All
Delivery:
Panel Discussion
Keywords:
Military Culture, Negotiation, Cross-Cultural Communication
Time/Date:
Thursday, March 15, 9:30am-11:00am