Ken Lechter
2013 CONFERENCE PRESENTER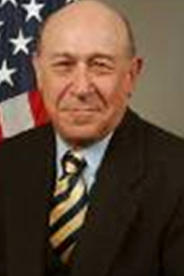 Ken Lechter

Associate General Council for Dispute Resolution, U.S. Air Force
Ken Lechter recently retired (December 31, 2011) as Acting Assistant Deputy General Counsel in the Dispute Resolution Division of the Air Force General Counsel's Office. Ken's principal program responsibilities were the Air Force Negotiation Center of Excellence and ADR in the area of acquisitions.  He provided negotiation and ADR training to Air Force JAG attorneys, Air Force acquisition professionals, Air Force environmental and real property professionals, Air War College students, and civilian Air Force employees wishing to become certified Air Force mediators in workplace disputes.  He also provided negotiation and ADR training at the Army War College, Army JAG School, NATO, the United States Air Force in Europe (USAFE), the FBI, and the Office of Federal Procurement Policy, as well as presented to the Public Contract Law Bar Association and the American Bar Association.
Prior to joining the General Counsel's Office he was senior procurement counsel for the Department of Commerce with primary responsibility for litigating appeals at the General Services Administration Board of Contract Appeals and bid protests before the Government Accountability Office. He also served as the Department of Commerce representative to the Inter-Agency ADR Working Group Steering Committee. During his tenure at Commerce he was detailed to the National Institute of Standards and Technology (NIST), where he served as Associate Director of Administration, to the General Counsel, where he served as Chief of Staff, and to the Department of Defense, where he was a principal draftsman of the Iraqi Government Procurement Order (CPA Order No. 87).
Prior to entering federal government service in 1991, Ken was the managing partner of a law firm in the suburban Washington area, where he specialized in civil litigation in both state and federal courts and administrative fora and served as an arbitrator for the American Arbitration Association.
Ken is presently serving as in-house counsel to MSI Universal Inc., a consulting and construction management company in Gaithersburg, Maryland.
SESSION 
Mastering the Art of Negotiating in the Military Environment
Presenter(s): Dr. Stefan Eisen Jr., Col (ret) and US Air Force Director, AF Negotiation Center of Excellence; Ken Lechter, recently retired (12/31/ 2011) Acting Assistant Deputy General Counsel, Dispute Resolution Division of the Air Force General Counsel's Office; and Dr. Gary Weaver, Executive Director and Professor, Intercultural Management Institute, School of International Service, American University
Level: All
Delivery: Panel Discussion
Keywords: Military Culture, Negotiation, Cross-Cultural Communication
Time/Date: Thursday, March 15, 9:30am-11:00am