Dr. Fanta Aw
IMI Faculty Member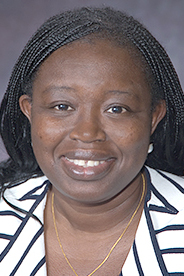 Dr. Fanta Aw, Adjunct Instructor, IMI
Fanta Aw is Assistant Vice President of Campus Life and Director of International Student and Scholar Services at American University in Washington D.C. Dr. Aw oversees strategic, administrative, programmatic and personnel operations related to intercultural programs and services at the university.

Dr. Aw has 20 years of experience in higher education administration and international educational exchange. She is actively engaged in training and consulting on diversity and inclusion issues, intercultural communication, and international education administration. She has conducted training for various higher education and government entities, including the Institute for International Education, NAFSA: Association of International Education, The Department of State, American Councils for International Education, the Academy for Education Development, the United Negro College Fund Special Program, the Qatar Supreme Educational Council, among others. She has led /facilitated over a 100 sessions and workshops related to international educational exchange, campus internationalization, cross-cultural communication,transnational migration and international student services and programs.

Dr. Aw is an adjunct professor in the School of International Service at American University. From 2003-2006 she taught at George Washington University. She has guest lectured on a range of topics including culture and race relations, multiculturalism, gender relations, intercultural team building, and campus internationalization. She holds a Bachelor's degree in Business Administration, a Master's in Public Administration and a PhD in Sociology from American University. Dr. Aw research focuses on international higher education, student/scholar mobility and the changing political economy.

Dr. Aw is a global Nomad. Originally from Mali, West Africa, she has lived in Mali, Liberia, Kenya, Rwanda, Senegal and the U.S. and has visited over 30 countries. She is fluent in French, English, and Bambara, and proficient in Spanish. She is a member of the Board of Directors of NAFSA: Association of International Educators, and is also on the advisory council of the Intercultural Management Institute at American University.
Skills Institutes

International Student Advising
This interactive seminar will focus on purposes and work of the international student advisor. Students in this seminar will be provided conceptual foundation and practical knowledge and skills to understand the role and responsibility of the international student advisor. Topics include cross-cultural counseling and advising, crisis management, administration and ethical responsibilities. The substance of F-1 immigration regulations and procedures will be covered in this seminar. In this intensive course, students will develop skills by using case studies.

What participants have said about Fanta and this skills institute:
"Great, practical subject matter! Fanta is amazing; I would take anything she teaches." –Fall 2011

"Dr. Aw is a highly knowledgeable, compassionate and gifted teacher. I wish all my profs demonstrated her ability to retain factual information and present in a tangible practical way." –Fall 2011

"I think the immigration and the ethics review were most helpful to me. They were very detailed and gave a great deal of helpful information." –Fall 2011