Gururaj Kumar
IMI Faculty Member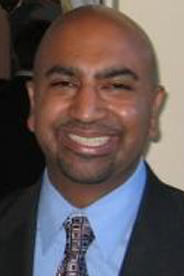 For more than 10 years, Gururaj Kumar, has provided conflict management, organizational development, and strategic communication support to public and private sector organizations. He has worked with senior managers, executives, diplomats, and ambassadors in the areas of mediation, facilitation, leadership development, cross-cultural communication, and organizational change management. Currently, he is an Associate with the KonTerra Group and a Conflict Management Consultant with ADR Vantage, providing organizational assessment, team building, group facilitation, and training to organizations such as the Federal Reserve Board, Transportation Security Administration, and Social Security Administration.
Prior to this, he was the Training and Policy Program Director for the ICONS Project at the University of Maryland's Center for International Development and Conflict Management, delivering leadership development trainings to 1,000s of public and private sector senior managers and executives on negotiation, collaboration, and crisis leadership. Some of his clients include the Office of Personnel Management, Federal Executive Institute, EPA, FDA, USDA, and NASA.

As the Director of American University's Mediation Services, Gururaj provided mediation, conflict management, and third-party facilitation services to all faculty, staff, and students on campus. Before working at American University, he was a Senior Consultant with Booz Allen Hamilton, where he provided organizational development, conflict management, and strategic communication expertise to government agencies experiencing large-scale organizational change. His professional experience also includes family mediation with the Washington, DC Superior Court and workshop design and facilitation in conflict management, cross-cultural communication, and organizational development.

Gururaj holds a BA in History and Psychology from the University of Michigan. He earned his MA in International Peace and Conflict Resolution and a graduate certificate in Organizational Change Management from American University.


Skills Institutes
Building Mediator Capacity in a Multicultural Context (Offered in Fall 2012)

To successfully tackle the challenges of today's multicultural academic and professional landscape, individuals must be able to facilitate difficult conversations and manage conflict effectively. Building the capacity to mediate successfully with differing cultural perspectives is a critical component for creating and maintaining sustainable relationships with colleagues and stakeholders. Designed as an interactive workshop, this institute provides participants with essential cross-cultural conflict management skills for building collaborative relationships when working with individuals and groups in conflict.  

Using hands-on exercises and simulation role-plays, participants will identify and analyze personal approaches to conflict, increase their cross-cultural competency, build their capacity as mediators, facilitators, and problem-solvers, and learn to transform conflict into opportunity.  

This course is designed for students and professional who are preparing to work or are already working in multicultural environments including schools, NGOs, corporations, and government agencies.
What people have said about Jared & Gururaj and this skills institute:
"I enjoyed the role play- putting mediation into action. Good job setting expectations/agendas. Good humor & personal stories." – Fall 2011

"Good balance and co-facilitation skills." –Fall 2011

"Demonstration, practice through simulations, overview of cultural differences & importance of : "it's about the parties, not you" & good handouts!" –Fall 2011