Alumni News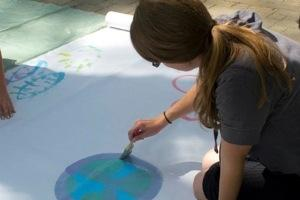 IPCR Students Receive Boren Awards
Over the summer, four IPCR students were awarded the competitive, merit-based Boren Graduate Fellowship. This dynamic fellowship supports students pursuing the study of languages, cultures, and world regions that are critical to U.S. interests. Kate Bogan, Joseph Imbriano, Sara Cady, and Katie Lance-Parsoud are among the eight SIS students who were awarded the prestigious Boren.
Each of these Boren Fellows is spending this year exploring the challenges of peacebuilding in a region of their interest through a self-designed project.
Katie Lance-Parsoud (MA/IPCR '12) is studying how the Bosnian peacebuilding process involves and empowers Bosnian youth at the grassroots level. Katie is interning at the Center for Peacebuilding in Sanski Most, with a focus on organizing and implementing Sanksi Most's second annual International Peace Week. She will also concentrate on grant-writing, teaching German and English, while improving her Bosnian language skills. To complete her year as a Boren Fellow, Katie will participate in an 8-week intensive language study program at the Melikian Center's Critical Language Institute at Arizona State University.
On a yearlong fellowship in Beijing, Joseph Imbriano (MA/IPCR '12) is examining the strategic intentions behind China's military expansion, specifically its recent drive to expand its naval capacity. His first three months in Beijing will focus on advanced Mandarin language and policy courses at Peking University, followed by nine months conducting interviews with experts at academic institutions and think tanks on their interpretation of Beijing's naval strategy.
Sara Cady (MA/IPCR '12) is focusing on improving her Modern Standard Arabic and the Palestinian dialect skills at Birzeit University in Ramallah. She is interning at Panorama, a Palestinian NGO examining how grassroots organizations work to develop Palestinian support for a comprehensive peace agreement with Israel. After nine months in Ramallah, Sara will spend summer 2012 participating in a two-month Arabic language intensive program at Middlebury College in Vermont.
Kate Bogan (MA/IPCR '12) is conducting research on the transitional justice and reconciliation processes in Cambodia 30 years after the crimes committed by the Khmer Rouge. In addition to learning the Khmer language, Kate is interning at the Extraordinary Chambers in the Courts of Cambodia - the hybrid national and international court that is prosecuting the Khmer Rouge leaders. She is also interning at the Center for Justice and Reconciliation, a non-profit that promotes civic education, victim support and community reconciliation.