A Message from Founding Director Dr. Abdul Aziz Said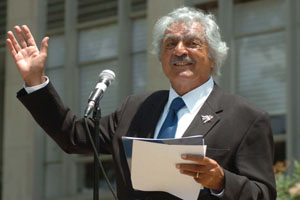 Photo by Bill Petros.
We are living in a world where borders have collapsed, as have our traditional conceptions of space, time and distance. Our fates and futures increasingly depend on one another, making mutual understanding, respect and cooperation essential to realizing the positive aspects of our growing interdependency. It is up to us to address three important questions. How will we know and relate with each other? How will we define and benefit from our relationship? How will we support our global community?
 

"We discover peace through a change in our way of seeing and experiencing the universe and ourselves, and the relationship between them.
 
We discover peace through relearning, through seeing the world with fresh eyes and through acting and responding in new ways.
 
We discover peace through healing, through the restoration of wholeness by "pulling ourselves together," individually and collectively.
 
We discover peace through (and in) the realization that the whole of existence is reflected in the parts, and from the parts comes the ever-greater whole. We discover the whole world needs the whole world." 
-Professor Abdul Aziz Said