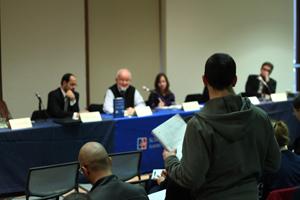 Combating Islamophobia: A Forum Highlighting Effective DC Based Approaches

Date: February 9,2011
Location: SIS Founders Room
Panel: Patricia Anton (Principle Researcher and Trainer with Pillars of Peace), Nihad Awad (National Executive Director and Co-Founder, Council on American-Islamic Relations), Stephen Buck (Co-Chair of the Middle East Task Force at River Road Unitarian Universalist Congregation), Maggie Mitchell (Program Coordinator, Islamic Society of North America's Office of Interfaith and Community Alliances), Esam Omeish (Chief of Division of General Surgery at Inova Alexandria Hospital and Founding Member of the Virginia Muslim Civic Coalition), and Daniel Tutt (Outreach Director, Unity Productions Foundation)
Moderator: Professor Shadi Mokhtari (American University)

Islamophobia currently dominates the headlines, from controversy around the Park 51 community center, to threats of Koran burnings, to discrimination against Muslims across the country. In response, many organizations are engaged in a diversity of programs and initiatives that forge connections across communities, and that work to address intolerance and discrimination. The panelists tackled questions like: what strategies are needed to combat Islamophobia, where is Islamophobia found, and what the DC community can contribute to this struggle? The discussion focused on how to challenge misunderstandings about Islam as well as how to promote the positive voices of the growing Islamic American community.
Here is a link to the Islamic Lecture Series on iTunesU.
Check out more pictures from the event in our Photo Gallery.