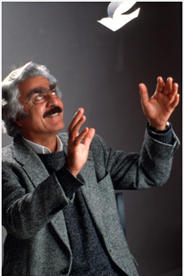 Context
Islam is perhaps the most misunderstood religion today, particularly in the West where Islamic religion and culture are associated with violence and aggression, assumed to contradict the principles of peace, nonviolence and democracy. To understand Islam, we must accept its continued role in Islamic countries on its own terms—as a deeply embedded personal and communal discourse—not as the vehicle of irrational anti-secular, anti-Western extremism. Islam's journey over the centuries reveals that it is not a static doctrine, but a historical dynamic process of interpretation and action that finds expression in the lived experiences and circumstances of people.
Islam is rooted in the values of peace, unity, and social justice. In its purest form, Islam is a fatwa (command) of peace. The Qur'an mandates "peace is a word from a merciful God." The habit of viewing Islam as an abstract theoretical doctrine has complicated efforts to understand how Islamic values can be applied to contemporary contexts. Static concepts of Islam make it difficult for Muslims to respond creatively to new forms of knowledge and new cultural experiences. If Islam is understood as an abstract set of commandments that lack a meaningful relationship to specific historical contexts and experiences, Muslims are bound to face difficulties when seeking to discover how Islamic principles can be applied to meet the challenges of contemporary societies.
The challenge for today's Muslims is to expand upon the original ideas of Islam. As Muslims seek to harmonize the Islamic spirit of communalism with the increasingly inescapable reality of globalization, they have a unique opportunity to provide significant leadership in contributing to the spiritual, cultural, and philosophical betterment of the world. What is needed from non-Muslims is to re-examine their fundamental assumptions about Islam and its relationship to the West. Ultimately, active engagement through sustained dialogue allows us to understand and recognize the authentic expressions of human religiosity, and protects us from the politics of manipulated symbolism. Active engagement between the Islamic World and the West is needed to move beyond negative reactions to discover human commonality, shared experiences, and compatible aspirations.