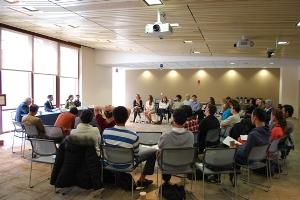 Dialogue on Identity: Arab, Muslims, and Western Perspectives from Experience and Literature

Date: April 13, 2011
Location: SIS Founders Room
Panelists: Todd Fine (Director, Project Khalid), Amani Elkassabany (Staff Development Teacher, Thomas S. Wootton High School), Faiq Malik (Student, American University)
Moderator: Mubarak Awad, Founder, Nonviolence International
The year 2011 marks the one hundredth anniversary of the first Arab-American novel, The Book of Khalid. Its author, Ameen Rihani, tells the tale of two Arab boys in New York City, weaving themes of immigration, religious and cultural identity, and relations between the East and the West - all of which hold significant relevance today. This panel brought the year 1911 to 2011, exploring how The Book of Khalid and Ameen Rihani's message of dialogue and coexistence carry critical lessons for the 21st century and the particular experiences of Muslim Americans today. How do Muslim Americans define and express their religious and cultural identity in the current political context? How does their experience relate to the story of Ameen Rihani's 19th century characters? What can we learn about the rich American tradition of immigration and coexistence, and the ways in which Arab and Muslim Americans fit within it? 
For audio from the lecture, here is a link to the Islamic Lecture Series on iTunesU.
Check out more photos from the event in our Photo Gallery.