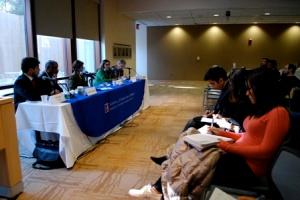 What can Islam Contribute to Transitions in the Middle East and North Africa?

Date: October 24, 2011
Venue: SIS Abramson Family Founders Room
Panelists: Abubakar Al-Shingieti (Vice President for Islamic Programs, International Center for Religion and Diplomacy), Shireen T. Huner (Visiting Professor, School of Foreign Service, Georgetown University), Shadi Mokhtari (Assistant Professor, School of International Service, American University), and John O. Voll (Professor of Islamic History and Associate Director of Prince Alwaleed bin Talal Center for Muslim Christian Understanding, Georgetown University)
Ground breaking dynamics have been shaking the fundamental structures of much of the Arab landscape in 2011. The world has been paying close attention to the developments in the Middle East and Northern Africa, but more questions than answers remain for both insiders and outsiders. This panel focused on addressing the question of what Islam can contribute to these transitions in the form of strengths and challenges. With the first transitional election in Tunisia scheduled for the same day, the debate around the roll of Islam in shaping the region continues to grow. The distinguished panelists provided their opinions and expertise on the implications and opportunities for the coming months. Please click here for audio from the panel discussion.
Check out our Photo Gallery for more pictures of the event.