Achievements
News and Notes 4/30/12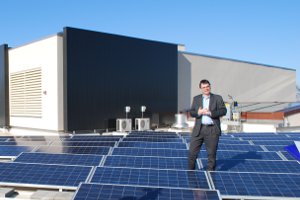 Heidi Ashton Yoon, Rebecca Bellinger, and Jeannie Khouri
(Office of Program Development) have been invited by the Institute of International Education to participate in a multi-author blog with other professionals in the field from around the world.They will begin contributing in summer 2012.

Professor Jeff Colgan
(International Economic Relations) spoke on April 11 at the Massachusetts Institute of Technology on "Revolutionary Leaders in Iran: Will Leadership Change Create Opportunities for Peace?" On April 17, he gave a talk at the University of Wisconsin-Madison entitled "The Emperor Has No Clothes: The Limits of OPEC in the Global Oil Market."
Professor Ken Conca
(Global Environmental Politics) has been awarded a grant from the United States Institute of Peace (USIP) for his research on environmental governance in war-torn societies. The project, in partnership with the World Wildlife Fund, evaluates practitioner experience with linkages among environment, natural resources, post-conflict/post-disaster response, and peacebuilding. The grant will support a series of workshops that bring together humanitarian first-responder organizations, conservation groups, and crisis management and peacebuilding organizations, to pool knowledge and experience about best practices for sustainable recovery and conflict risk reduction.
Cynthia Elliott, SIS/MA '12
(Global Environmental Politics) has been selected to participate in the Japan Foundation Center for Global Partnership's Japan Travel Program for Future U.S. Leaders 2012. Elliott was chosen in a competitive process and will be one of 12 second-year students from Association of Professional Schools of International Affairs (APSIA) schools to take part.

Matthew Espie, SIS/BA '12
participated in the Claremont-UC Undergraduate Research Conference on the European Union at Scripps College, California. Espie presented his paper, "Biodiversity in the Fray: The European Union's Struggle to Protect a Common Resource."
Patricia Ward, SIS/BA '11
has received a Fulbright Grant for the 2012-2013 year. Ward will move to Canada in the fall to conduct research on how highly-skilled refugees navigate complex institutional requirements in order to achieve recertification as a precondition for reemployment in their specialized professions.