On Campus
Jerusalem Women Speak Tour Visits AU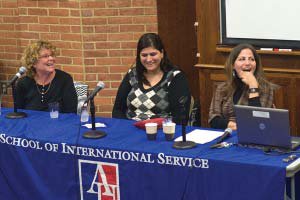 On November 5, the IPCR divison hosted the Jerusalem Women Speak tour, a project of Partners for Peace. The Jerusalem Women Speak tour has been hosted at AU for the past few years and was more widely sponsored this year than ever before.
Co-sponsors of the event included: the International Peace and Conflict Resolution Division, American Students Peace Alliance, AU Students for Justice in Palestine, AU Students for Israel, Center for Global Peace, the Center for Social Media, Jewish Student Association, The Office of the University Chaplain, Middle East and North Africa Student Association, Muslim Student Association, Peace Empowerment Project, Women and Gender Studies Program, and The Washington College of Law.
The three women who spoke were Julia Chaitin, an American-born Israeli Jew who lives on a kibbutz outside of Sederot and teaches at Sapir College; Lucy Talgieh, a Palestinian Christian from Bethlehem who works for the Wi'am Center for Conflict Resolution; and Enas Muthaffar, a Palestinian Muslim refugee from east Jerusalem who is a filmmaker. The panelists told their personal stories about the Israeli-Palestinian conflict, which gave the audience a more human perspective on the situation. They spoke about the dynamic issues, complications, and areas of optimistic progress regarding the Israeli-Palestinian conflict. After the panelists spoke, Professor Mohammed Abu-Nimer moderated a question and answer session. The panelists emphasized that the conflict was not a religious one, but an issue of occupation and oppression.
While on tour, the women will speak at numerous venues across the United States with the goal of raising awareness and offering unique perspectives on the Israeli-Palestinian conflict. Although this event was planned especially for the students in Professor Abu-Nimer's Peacebuilding in Divided Societies course, the interest in hearing first-hand perspectives of the Israeli-Palestinian conflict drew over 60 students, staff, and faculty to attend the program. Audience members asked a range of questions about the importance of dialogue as a tool of peacebuilding, the role of the media in shaping public opinion about the conflict, and international cooperation in working for peace.
Click here to see a podcast of the event. Visit here for more information about the tour.