In the Community
IPCR Announces Visiting Scholar Seminar Series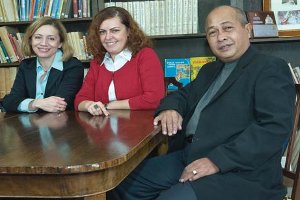 The IPCR program is pleased to announce its first Visiting Scholar Seminar Series with the arrival of three international scholars who have joined the program for the Spring Semester. Visiting Professor Ayse Betul Celik from Turkey, Scholar-in-Residence Octavio Dinampo from the Philippines, and Faculty Fellow Davorka Matic from Croatia will present their current research and practice experiences during the Series. The three-part seminar series will be held on March 20, March 27, and April 14.
With a prime opportunity for students and faculty to learn from the work of these international visitors, the Seminar Series is formalizing the informal exchange of ideas and interests that began with their arrival. Each seminar will begin at 3:30pm allowing time for a presentation and question and answer session and followed by an invitation to continue the conversation and community building at Guapo's in Tenleytown.
From Turkey: Dr. Ayse Betul Celik
A Visiting Professor from Turkey, Dr. Ayse Betul Celik arrived in the IPCR Program in early January just in time to begin teaching an IPCR course. She is also spending the spring semester networking with colleagues who share her interest in peace and confl ict resolution and soaking up all that Washington, D.C. has to offer an international scholar on sabbatical. The IPCR and larger AU community will have an opportunity to benefit from Dr. Celik's research when she presents, "Track II Interventions and the Kurdish Question in Turkey" as part of the IPCR Visiting Scholars Seminar Series on Friday, March 20 in Mary Graydon Room 205. 
Dr. Celik studied political science at both the undergraduate and PhD levels, but her interest in peace and conflict resolution was sparked in 1993 while she was interning in the Office of the United Nations High Commissioner for Refugees. Immediately following the Gulf War, there were large numbers of Kurdish and Iranian refugees living in Turkey. Examining their situation, Dr. Celik found herself questioning the concept of a nation-state. 
Combining her knowledge and interest of political science and peace and conflict resolution, Dr. Celik researches and works on political mobilization amongst the Kurds in Turkey. She has also recently begun to study blood feuds and honor killings in Turkey. In her role as Visiting Professor, Dr. Celik is teaching "Culture and Peace and Conflict Resolution: Alternatives to Violence," which focuses on identifying the cultural causes of conflicts and the ability to use culture to resolve conflicts. She is especially enjoying the broad range of experiences of the students in her course.
From the Philippines: Dr. Octavio Dinampo
In late January, Dr. Octavio Dinampo arrived from the Philippines to join the IPCR Program for the spring semester as part of the new Visiting Scholars Program in the School of International Service. Sponsored by the Asia Foundation, Professor Dinampo will spend his time with the IPCR Program as a Scholar-in-Residence, expanding his knowledge of conflict resolution, while also sharing his experience with students in the program. As a presenter in IPCR's Visiting Scholars Seminar Series, Prof. Dinampo will speak on "The Peaceful Transformation of the Mindanao Conflict" on
Friday March 27 at 3:30pm in Bentley Lounge, Gray Hall. Students and faculty in IPCR are already having a lively exchange of ideas about conflict resolution in light of Dr. Dinampo's experiences in a conflict zone.
Having his country's government declare marshal law while still in high school, he led a double life back in the Philippines of "student by day and rebel by night." Violence was everywhere; alternatives were never given. Even as a teacher, involvement in the Moral National Liberation Movement continued. During a long-awaited peace process with the government, Dinampo hibernated in contemplation ultimately finding a transformation to peace. "How can I serve my community?" pondered Dinampo as the Final Peace Agreement of 1996 remained unimplemented. 
Lying about his need for time off, Dinampo took three of his fi ve teaching days for research and social work to devise a way to recreate a sense of community in the violent principalities. "I cannot be a bystander" was Dinampo's thought whilst creating an NGO known as Tulung Lupah Sug, Inc. (TLS) and sending out proposals to greater institutions. The Asia Foundation (TAF) answered his call with a deal that would fund his peacebuilding projects if his NGO could tackle 15 cases of violent confl ict in one year. Meeting this challenge, he has continued a partnership with the Foundation. His presence at AU is proof that TAF-TLS joint undertakings can help transform Mindanao from war zones to peace zones. Professor Dinampo is honing his skills in community peacebuilding, and he hopes to utilize dialogue and non-violent action as an alternative to guns in Mindanao.
From Croatia: Dr. Davorka Matic
Professor Davorka Matic is joining the IPCR program as a Faculty Fellow while she is on sabbatical from her teaching position at the University of Zagreb in Croatia. With research interests that complement the interests of several IPCR faculty, Professor Matic will spend the semester exchanging ideas with colleagues and furthering her research on the Middle East. Additionally, the AU community can benefit from Professor Matic's expertise by attending her seminar on April 14th on "Nationalism and Democracy in Croatia: Ethnic-Civic Dichotomy Reconsidered" at 3:30 PM in Clark Conference Room.
As a native of Croatia, Professor Davorka Matic has come to learn that location is not everything. She has found what she calls a "black hole" in Croatian academia. The Middle East is relatively absent in studies in her country. With her bachelor's and master's degrees in sociology and a specialization in nationalism, ethnic controversies and new democracies, she is moving into new territory with a focus on the Middle East. 
Watching this evolution of cultures right in her backyard, Professor Matic has come 4,600 miles to the School of International Service at American University in order to conduct independent research on the Middle East. Professor Matic' home institution, the University of Zagreb, is the oldest standing educational institution in Croatia dating back to the late 17th century. It was in 1776 when Queen Maria Teresa of the Habsburg Dynasty established Royal Academy of Sciences in Zagreb (Regia Scientiarum Academia), and the modern University of Zagreb was established in 1874, with four Faculties: Faculty of Law, Medicine, Philosophy and Theology. The Sociology Department was established in 1963 and is part of the Faculty of Social and Human Sciences (Faculty of Philosophy). Professor Matic now is on her way to continue the evolution of her university as she works towards her dreams of creating a Middle Eastern Studies program in Croatia.
This article originally appeared in the Spring 2009 International Peace and Conflict Resolution Newsletter.