Professional News
SIS Students, Alumni Gather at State Department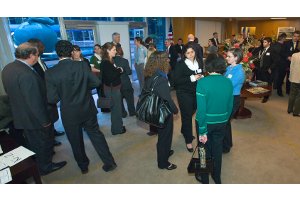 About 75 members of the School of International Service (SIS) community convened at the State Department on Tuesday, May 5, 2009. According to Judy Donner, Coordinator of Development and Alumni Relations, the event "brought together AU and SIS alumni at the State Department who haven't had an opportunity for a few years to connect and reconnect. We also wanted to bring in a small group of our students to meet our alumni and show them the caliber of our students."
Attendees included AU alumni, mostly from SIS, who are current or former employees of the State Department or the United States Agency for International Development (USAID), with a mix of graduate and undergraduate guests. The classes represented spanned over fifty years, from 1961 – 2012. Ambassadors in attendance were Clyde Taylor, SIS/MA '61, Curtin Winsor, Jr., SIS/MA '64, SIS/PhD '71, David Dunn, SIS/MA '74, and Distinguished Diplomat in Residence Anthony Quainton.
The event was a team effort between the SIS alumni/development staff (Donner, SIS Director of Development Morris Jackson, and Assistant Director of Development Mark Newman) and alumna Christina Leone, SIS/MA '04, the school's alumni liaison at the State Department, who will be replacing Stuart Denyer, SIS/BA '99, the outgoing liaison.
SIS graduate student attendee Rachel Sosin, SIS/MA '10, reaped double benefits from the event. "As a current State Department intern, I was able to offer advice and real world experience to students interested in joining the State Department. The event also offered me an opportunity to interact with State Department and SIS associates I rarely have the opportunity to meet. I greatly appreciated the chance to meet with and interact with so many fascinating professionals."
Undergraduate student Kyle Contrata, SIS/BA '12, echos Sosin's enthusiasm. "The alums were very willing to answer our questions and seemed to be very interested in helping us. From this experience I feel the two best things I received were an introduction to how networking works and lots of good insight into the field of international relations and the State Department."
As an alumnus, Winsor explained that "the event gave several of us who were alumni of SIS and AU the chance to chat with undergraduate and graduate students, and it was an uplifting experience. They were so receptive."
The evening stressed the diversity of the positions in Foggy Bottom, aside from the foreign postings. "This is a unique time for students to be looking at the State Department," noted Newman, citing the various domestic areas of the Department, such as engineering, human resources, and accounting.
In addition to their wealth of opportunities, these students have another asset to their names. "The AU degree is a dream," Winsor said. "They'll be very happy they have it."